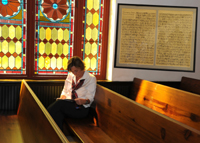 An MUSC employee reflects during the Sept. 9 9/11 observance at St. Luke's Chapel. In memory of Sept. 11, 2001, the chapel displayed photos of those who perished and had a commemorative service. On Sept. 20, a lecture will be given by Dr. David Prezant, chief medical officer of the New York Fire Department, at noon in the Storm Eye Institute Auditorium. Prezant will speak on his experiences in providing medical care at the World Trade Center site on 9/11/2001.


PEOPLE
Katherine E. Renné



Katherine E. Renné, DMD, joined the Department of Pediatric Dentistry & Orthodontics as an assistant professor. Renné received her doctor of dental medicine degree from MUSC College of Dental Medicine in 2008 and completed her residency in pediatric dentistry at MUSC.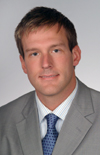 Brett Shigley
MUSC's James B. Edwards College of Dental Medicine Campus Virtual Tour was named the winner of the 2011 Best of the Web Award Winner within the College-University category by the Center for Digital Education. The James B. Edwards College of Dental Medicine Campus Virtual Tour website was created in 2010 by third-year dental student Brett Shigley. To visit the College of Dental Medicine website, visit http://www2.musc.edu/webtour2.


Renata S. Leite
Renata S. Leite, DDS, assistant professor in the Division of Periodontics, College of Dental Medicine, was awarded a R21 grant from the National Institute of Dental and Craniofacial Research. The two-year grant award will be used to support her oral health project, Hollywood Smiles.
EVENTS

Cancer Awareness Fair
A Women's Cancer Awareness Fair will be held on Sept. 27 in the Horseshoe and portico. Information from various cancer programs, community and support groups will be available. In addition, a visit from the Pink Heals Tour will be escorted in by 75 - 100 motorcyclists. The tour is a fleet of pink fire trucks that tour the country to promote awareness for women's cancer. Female cancer survivors will be invited to sign the trucks which will be in the Horseshoe from noon until 2 p.m. For information, call 792-9315.
Shannon's Hope Camp
Registration is open for the Oct. 8 - 9 Shannon's Hope, a therapeutic camp for children, ages 6 - 15, who have experienced the death of a loved one in the past three to 24 months. Visit http://www.hospiceof charlestonfoundation.org, or call
216-7323.
StaffPicks
GreatRead
"The Fragile Community: Living Together with AIDS" by Mary Adelman and Lawrence Frey (1997) takes on the difficult topics of medical and social stigmas within a community of AIDS patients living in the Bonaventure House in Chicago. If one of the most devastating things to happen to a community is the loss of its members, how do these patients maintain or create a community when death is perpetually on the doorstep? Leaning on qualitative and quantitative methodologies, the book explores the communication behaviors and coping techniques used by this group of patients to navigate the rest of their lives.
Reviewer: Heather Woolwine, PR
BlogRoll
If you feel overwhelmed by technology, then check out David Pogue's blog, Pogue's Posts. Columnist for The New York Times Pogue uses his off-the-wall humor to educate readers about the latest in the tech world. His Sept. 8 post covers internet memes 101: a guide to online wackiness complete with YouTube links to the past and current top picks. Visit http://pogue.blogs.nytimes.com/.
WebLink
Check out this video of Dr. Thomas Hulsey as he explains the success of MUSC's MSCR or Master of Science in Clinical Research Program, a global program that has an 85-student enrollment this fall. Visit http://bit.ly/MUSC_Dr_Hulsey.
Your Reflections?
If you have a book or website you'd like to recommend, send in your reflections to: Dawn Brazell at brazell@musc.edu.