The MUSC Movement Disorders Program is launching the Phase II-Cogane research study aimed at repairing the brain of those suffering from Parkinson's disease.

The drug Cogane will be administered to about 400 patients nationwide who have early stages of the disease. In the study, three doses of Cogane, administered orally once daily, will be compared with placebo.

Parkinson's disease is a debilitating brain disorder causing symptoms of tremor, slowness of movement, stiffness and cognitive decline. The disorder is progressive, and there is currently no cure.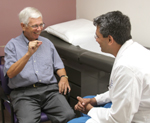 Andy Dowling, left, a participant in the Phase II-Cogane research study works with Dr. Gonzalo Revuelta, Deep Brain Stimulation Program director. Sumter resident Dowling, one of about 400 people in the nation participating in the study, is administered either the drug Cogane or a placebo orally once a day.

The Cogane study medication is a neurotrophic factor inducer that has the potential to enhance the function of damaged nerve cells in Parkinson's disease and to protect other cells from the degenerative process. Neurotrophic factors are needed to keep brain cells alive and to help them heal after an injury or illness occurs. In animal studies of Parkinson's disease, disability was reduced by 43 percent with the Cogane study drug.

Vanessa Hinson, M.D., Ph.D., director of the MUSC Movement Disorders Program, said this drug, if successful, could revolutionize the way Parkinson's disease is treated.

"Early detection is key, if we can get patients in before their disease progresses, we can hopefully preserve quality of life and function."

For more information or to enroll in the study, contact clinical research coordinator Jennifer Zimmerman at 792-9115.

For information on the program, visit http://www.muschealth.com/neurosciences/movementdisorders/.