By Cindy Abole
Public Relations


Moving research discoveries to market and guiding MUSC's relationships with industry to bring an integrated approach to business is the goal of Lawrence (Larry) Olanoff.

Olanoff, M.D., Ph.D., arrived in June as special advisor to MUSC President Ray Greenberg, M.D., Ph.D., for corporate relations.

Not a stranger to MUSC's campus, Olanoff will lead the campus' research community in identifying and cultivating industry sponsorships. Specifically, he will help accelerate the transfer of new medical technologies, pharmaceuticals, therapies and research advances that will improve health care, generate revenue and increase MUSC's presence in this area.

His view of MUSC has changed since the early 1980s when he first worked as a medical intern in the Department of Internal Medicine and later, as a clinical pharmacology fellow in MUSC's Division of Clinical Pharmacology under Perry V. Halushka, M.D., Ph.D., now College of Graduate Studies dean. He's impressed with how MUSC's breadth of scope has strengthened to include a greater quantity of basic and clinical research projects and clinical practice capabilities such as at the Hollings Cancer Center (HCC). In March 2009, HCC became the 64th National Cancer Institute-designated center — the only facility of its kind in South Carolina. Most recently, Olanoff worked as a member of MUSC's Foundation for Research Development's (FRD) board until his retirement in 2010 as former president and chief operating officer at Forest Laboratories Inc. in New York.

Greenberg and other campus leaders are impressed with Olanoff's leadership in the pharmaceutical industry and service on the FRD board.

"Dr. Olanoff is the perfect person to help connect us strategically to industry partners. He understands the intellectual resources on this campus and he also has a keen awareness of the needs of the private sector. As the Drug Discovery and Bioengineering buildings open, and we have a push to expand our technology transfer, Dr. Olanoff can play a key role in these efforts," Greenberg said.

Returning to the Lowcountry, Olanoff is impressed with how MUSC's campus has evolved to become both collaborative and focused on advancements in translational medicine. He credits this in part to a 2009 $20 million Clinical Translational Science Award from the National Institutes of Health (NIH), establishing the South Carolina Clinical and Translational Research Institute (SCTR) Office, making new treatments available, expanding clinical research efforts and preparing a new generation of researchers.

In more recent years, pharmaceutical companies scaled back their own testing, developing targets for drugs and other basic science efforts only to turn to institutions such as MUSC to conduct this research, and develop new discoveries.

According to Olanoff, industry sponsors typically follow where the research is located and most often these are the most commercial markets. Pharmaceutical giants such as Novartis has established a biomedical research institute in Boston, collaborating with Harvard University and surrounding research institutions to help advance and market discoveries.

Halushka said Olanoff has incredible perspective about what pharmaceutical companies are looking for when they partner with academia. "As a growing research institution, his expertise will help guide us to partner with pharmaceutical industries and become more entrepreneurial. He's a real asset to our campus."

In the past few months, Olanoff has been meeting and visiting with faculty and observing the institution's collaborative environment. He's also identifying researchers who have potential intellectual property and promising discoveries. At the same time, Olanoff is approaching corporate sponsors to link their research goals with MUSC's long-term research interests. To emphasize this, he's aligning these goals with two of the MUSC Strategic Plan's core themes — entrepreneurship and technology/innovation — to inspire efforts and help others visualize how discoveries can progress to product development.

"Establishing these types of relationships benefits both the industry sponsor and the institution. It's about taking existing relationships and making sure they are optimized as much as possible," said Olanoff, who is anxious to partner with commercial developers, companies and investors interested in developing long-term relationships with MUSC researchers. Aside from working with pharmaceutical companies, he'd also like to partner with large medical device manufacturers and diagnostic-related companies.

"We're hopeful that Dr. Olanoff can match MUSC's abilities and skill sets with companies that will be complementary. I see this as his greatest talent," Halushka said.

Olanoff is already working with on-campus resources like the Office of Industry Partnerships' Stuart Knight and the SCTR Office on projects. Olanoff is a member of the SCTR triage team, a group which meets regularly to evaluate SCTR-funded projects and researchers who possess research data and valid applications that may be patentable or licensable.

Olanoff also works closely with FRD director Chip Hood, J.D., and his team to carefully evaluate each product to determine its efficacy and scientific credibility and to confirm if there are any future commercial applications for this product.

Hood said they've developed a plan and are moving forward with it at a good pace. "Dr. Greenberg's vision for MUSC to begin commercializing new technologies and inventions needed someone experienced in developing strategic relationships with industry. Dr. Olanoff helps bridge that gap between the academic researcher and industry business development person in creating cutting edge technologies and products that can make a difference," he said.

Olanoff agrees that MUSC's campus is ripe for this transition.

"There's an enormous amount of high quality and useful research that's going on at MUSC," said Olanoff, whose niche is getting sponsorship and establishing a flow of industry funds to support the research at a very early stage. "What I'm doing is building on something that's already established and helping our institution market capabilities that will bring early-stage research funding," he said.

For information, visit MUSC'sFoundation for Research Development, http://academicdepartments.musc.edu/frd/contact.htm.
Technology officer dedicated to researchers, new discoveries
By the time microbiologist David Holman had earned his doctorate from MUSC's College of Graduate Studies, his attention was focused on science and the thrill of discovery. Six years later with some biotech experience under his belt, his interests have shifted to helping others with their own research inventions and materials and the institution's policies for managing intellectual property. Holman wanted to be part of a work environment that fosters discovery and innovation.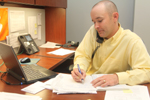 Foundation for Research Development's Dr. David Holman consults with a colleague regarding the licensing process of a research discovery. Holman's office is in the newly relocated College of Graduate Studies offices in the Bioengineering Building.

In his new role, Holman manages the technology transfer of new science and clinical discoveries. He provides guidance to researchers about the technology transfer process working primarily with faculty, clinicians and students to help them understand patents, copyrights, and licensing in the context of academic research. More specifically, he's involved in the evaluation, marketing and licensing process of inventors' intellectual property. Holman will develop and execute invention management strategies, facilitate non-disclosure agreements for campus inventions, and manage licensing agreements and secure intellectual property protection (i.e. patent applications) for inventions.

The York native earned his doctorate in microbiology in 2005 from the College of Graduate Studies. He worked for a Mount Pleasant biotech start up company before returning to his alma mater to work in the Foundation for Research. Holman is a registered patent agent and is finishing his law degree as a part-time student of the Charleston School of Law. He will graduate next May.

"We want our researchers to benefit from their work and enjoy the many benefits beyond just making the research dollars," he said.

South Carolina Clinical and Translational Research Institute (SCTR) co-principal investigator Perry Halushka, M.D., Ph.D., is proud to have one of his college's alumni return to campus. "David's done a phenomenal job in such a short period of time. He has created greater visibility for SCTR and FRD and has generated lots of good will with his colleagues through his position. He's focused on improving communications and response time to the research community."

For information, email holmad@musc.edu.