For some MUSC employees, Sept. 14 marked a day they learned an important lesson about themselves.
They learned they could dance, said Jennifer Wright, R.N., one of the organizers for a fundraising flash mob held in the Horseshoe as part of the Heart Walk Hustle to raise money and promote the American Heart Association's Heart Walk held Sept. 17.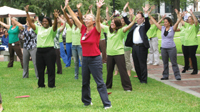 About 60 participants gathered on the Horseshoe to break out their moves to Katy Perry's "Firework" to a crowd of appreciative onlookers, glad to have some entertainment for a good cause.

"That's the part we were most pleased with. It got people from all different parts of the hospital working together," she said. "It got people excited about it. And it was heart healthy."
Registered nurse Loryn Krooner's 2-year-old daughter Taylor adds her dance moves to a flash mob fundraiser for the American Heart Association event in the Horseshoe Sept. 14.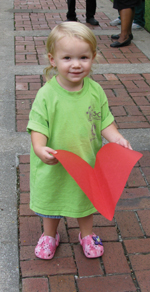 It was a morale booster and once participants learned the moves weren't that hard, the flash mob became a way for employees to make connections with each other, she said. It all came together in a week, which she describes as an incredible feat. Planners were worried no one would show up to watch, but they were pleasantly surprised.

"My favorite part of the event was the collaboration – to have that many people come out and dance to raise money for the heart association and to have so many people come support us was great."
Video Link
To see the Heart Walk Flash Mob video, visit
http://www.youtube.com/watch?v=X_4qfohebRo