Described as dedicated and compassionate, Brenda Fauteux, PharmD, was praised for her positivity, "can do" attitude and problem-solving abilities as it relates to patient care and working with staff. In her nomination letter for MUHA 2011 Employee of the Year, Fauteux was recognized by Kelly Crowley, PharmD, for her care in the case of two pediatric patients and their families. In both cases Fauteux went out of her way to ensure that a patient's medication order was filled and received. For one patient whose medications were delayed due to a shipping error, Fauteux filled and delivered the medications to the patient's house. Crowley wrote that Fauteux supports teamwork and if anything goes wrong, then "everyone owns it and is responsible for fixing it and making things right."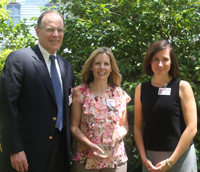 Rutledge Tower Outpatient Pharmacy coordinator Dr. Brenda Fauteux, center, was named the MUHA Employee of the Year at a ceremony held Aug. 18. Fauteux was joined by her nominator, Dr. Kelly Crowley, Ambulatory Services Pharmacy Services manager, and Stuart Smith, vice president for Clinical Operations and executive director, MUSC Medical Center.

Fauteux has focused on helping Rutledge Tower Pharmacy Services staff improve its services and processes. "Brenda has a vision for what we can be and will work to see it become a reality," Crowley said.

Fauteux began her career at MUSC as a pharmacist at ART Ambulatory Pharmacy Services in June 2008. In March 2010, she was assigned to work at Rutledge Tower Pharmacy Services and now managers both pharmacy sites.
The 2011 Employee of the Year nomination process occurred from June 24 to July 5. Intranet voting took place around mid-July.
Other finalists include: Brittany Perry, R.N., 8 East; Nancy Hendry, Bed Management; Donald Holzheimer, Adult Inpatient Pharmacy Services; Ronald Clark, STAR Ladson Psychiatry; Susan Lucas, Business Development & Marketing Services; Shannon Harmon, Clinical Neurophysiology Services; Annie Bass, 9 West; Sherman Olsen, STAR Leeds Psychiatry; and Carmen Rice, Ambulatory Care Services.