MUSC faculty members honored their peers Aug. 23 at the annual Faculty Convocation.

Keynote speaker for the event was William Plater, Ph.D., a senior consultant for higher education strategies at Epsilen Environment, a centrally hosted learning management company that allows teachers and students to work and collaborate within an academic online environment. Plater also is Chancellor's Professor Emeritus for Public Affairs, Executive Vice Chancellor Emeritus and Dean of the Faculties Emeritus at Indiana University – Purdue University, Indianapolis.

In addition to the annual faculty awards, Layton McCurdy, M.D., Dean Emeritus and Distinguished University Professor, received an Order of the Palmetto award for his years of service to the Medical University and to the state of South Carolina.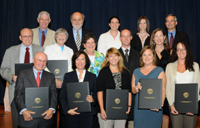 The MUSC Foundation recognized the 2011 faculty awardees during the campus' Aug. 23 Faculty Convocation: bottom row, from left: Drs. Fred. A. Crawford Jr., Teresa J. Kelechi, Susan D. Newman, L. Ashley Cowart, Alyssa A. Rheingold; second row, from left: Drs. Roger Markwald, Gene E. Burges, Becki Trickey, Carl Atkinson, Diane L. Kamen; top row, fromleft: Drs. Julius Sagel, Layton McCurdy (Order of the Palmetto Award), Amy Thompson, Kelly Ragucci and Scott Bradley.

Faculty awards were given to honorees in four categories: distinguished faculty service, teaching excellence, outstanding clinician and developing scholar. Recipients in each of the categories are listed below.
Distinguished Faculty Service

Fred Crawford, M.D., a Holly Hill native, graduated first in his class from Duke University School of Medicine and came to MUSC in 1979 from the University of Mississippi Medical Center where he was chief of cardiothoracic surgery. Assuming the same office here, he took a "floundering" cardiac surgery program and transformed it into one of the best in the nation. Many of the physicians he has recruited have gone on to establish themselves as leaders and innovators in their respective fields on a national scale. Some years later, Crawford became chief of the Department of Surgery, taking on the responsibility for all surgical activity. The result was the same, with steady growth in all areas: patient care, teaching and research. MUSC now boasts one of the nation's leading organ transplant centers as well as its oncology program. He also played prominent roles in the establishment of University Medical Associates, the physicians' practice plan, and in the building of Ashley River Tower.
Becki A. Trickey, Ph.D., who earned her doctorate from the University of South Carolina, has spent the vast majority of her nearly 40-year career at MUSC with the College of Health Professions. Currently professor and associate dean for academic affairs, Trickey began her career here as a staff therapist in the Department of Psychiatry and at one point served as interim dean of the College of Health Professions. Her association with the college began in 1979 as a clinical associate in occupational therapy. Other critical roles include director of the occupational therapy program, director of strategic planning, chair of the Department of Rehabilitation Sciences, special assistant to the dean, associate dean and executive associate dean. She has been praised for her vision and leadership, especially during her tenure as interim dean in 2006 -07. During that period, she restructured the Dean's Office, initiated the development of a Ph.D. program and a master of research administration degree, implemented an alumni-student mentorship program, created a disabilities services resource webpage and initiated a building renovation to upgrade and equip the Motion Analysis and Human Performance labs.
Roger R. Markwald, Ph.D., is an internationally recognized researcher and leader in cardiac developmental biology, biofabrication, and regenerative medicine. His impressive list of publications, grants, and awards exemplifies his accomplishments, scientific status, and contributions to these fields. Currently professor and chair of the Regenerative Medicine and Cell Biology Department in the College of Medicine, Markwald earned his bachelor's degree at California State Polytechnic University, and his master's and doctorate degrees at Colorado State University. Following postdoctoral work at MUSC, he joined the faculty, rising to the position of associate professor before leaving for other institutions.
He returned in 1992 as professor and chair of the Department of Cell Biology and Anatomy, since renamed the Department of Regenerative Medicine and Cell Biology. Colleagues credit him for helping to make MUSC a global name in research.
Outstanding Clinician

Kelly R. Ragucci, PharmD, a clinical pharmacist who primarily practices in the Department of Family Medicine, earned her doctorate at the University of Toledo. She completed her residency at MUSC and in 2000 accepted a joint appointment in the colleges of Medicine and Pharmacy. She is considered a national leader in clinical pharmacy, and has served in several prominent roles for national organizations to advance the profession. She has also been asked to speak about clinical issues at national meetings and continuing education talks. She is board-certified in a diverse range of specialties, active in community outreach and honored repeatedly for her teaching skills. Her greatest honor, however, may be the admiration and allegiance of her patients. "Kelly is a wealth of information and the most conscientious, dedicated, and personable person at MUSC I've ever met," said one. "If she were a doctor I would have her as my primary care physician."
When Alyssa Ann Rheingold, Ph.D., joined the Department of Psychiatry and Behavioral Sciences faculty, she had already been very well trained by some of the foremost experts in the field, especially in the area of anxiety disorders. She earned her master's and doctoral degrees from MCP Hahnemann University, now merged with Drexel University. She has been recognized with awards for her clinical work, both from patients and peers. In addition, to her service in the department's existing clinics, Rheingold has further developed the types of services offered by establishing new clinical services through extramural service grants, with a particular focus on traditionally underserved populations. Some of these new clinical programs include a community-based treatment program for adults who are victims of domestic violence; a program of support groups across the Tri-county area for family members of homicide victims; and two outreach programs, one rural and one urban, which offer in-home services to family members of homicide victims.
When Scott M. Bradley, M.D., arrived at MUSC in 1995, the congenital heart surgery program already had a distinguished track record. The Harvard Medical School graduate, however, set the standard higher, and now MUSC boasts a world-class program. It reflects the high standards he sets for himself. Statistically, it is easy to see Bradley's impact at MUSC. Overall mortality rates in pediatric cardiac surgery have decreased from 10 percent in 1995 to only about one percent today. His outcomes with the Norwood procedure, used in complex cardiac cases, carry a 91 percent survival rate, 11 points higher than the national average. He also had an integral lead in extending this program to include referring pediatric cardiologists across the state, thus forming the Children's Heart Program of South Carolina. His compassion transcends state and national borders, however, to include children from around the world. He participates in the Gift of Life program offering up to four children a year a second chance of life with corrective heart surgery.

Developing Scholar

In a relatively brief period of time, Carl Atkinson, Ph.D., has made significant contributions to the field of complement biology, complement mediated disease mechanisms and transplantation. He earned bachelor's degrees in biomedical sciences and cellular pathology from Kingston University and the University of the West of England, respectively, and his Ph.D. in transplant medicine from the University of the West of England. Atkinson trained at Papworth Hospital in Cambridge, England under the mentorship of Dr. Martin Goddard and Professor John Wallwork. His Ph.D. studies focused on the patterns of vascular remodeling seen in transplant coronary artery disease and the immunological mechanisms that contribute to this proliferative disease. While obtaining his Ph.D., he produced nine publications focusing on cardiac alio and xeno transplantation. "I would rate his productivity in terms of research outputs as in the top five percent of younger investigators," states Professor Nicholas W. Morrell of the University of Cambridge.
L. Ashley Cowart, Ph.D., has emerged as a leader in the field of yeast
sphingolipids. She has developed a new research program on defining novel mechanisms by which sphingolipids and other bioactive lipids regulate the metabolic syndrome and diabetes. As such, she has become one of a group of researchers developing the emerging field of the role of sphingolipids in the metabolic diseases of obesity, diabetes and related disorders. Particularly, she is among a few researchers who are capable of design and perform multidisciplinary research to gain insights of sphingolipids signaling systems in yeast and mammalian cells. She is the first investigator studying the impact of sphingolipids in transcriptional regulations in response to cellular stresses using microarrays. A series of follow-up studies have led to high-impact publications. She graduated from Furman University with a bachelor's degree in biology and earned her Ph.D. in biochemistry from Vanderbilt University.
Diane Kamen, M.D., graduated from Northwestern University with a bachelor's degree in biological sciences and earned her medical degree from the University of Kansas. Her post-doctoral work has been at MUSC, which includes a master's in clinical research. She is an assistant professor of medicine and board-certified in internal medicine and rheumatology. From the time she joined the faculty in 2005, she has undertaken a productive career in clinical investigation, focusing on systemic lupus erythematosus (SLE, lupus). Kamen is considered among a handful of "rising stars" in the field of lupus research, as evidenced by her success in publications, grants, national and international presentations, and accolades from some of the foremost leaders in the field. It is rare for a junior faculty member to rise to leadership positions as rapidly as she has, both at regional, national and even international levels. She has been a first author or co-author on 21 publications, including one published in a high-impact journal, Science. She was an invited lecturer at the 9th International Systemic Lupus Erythematosus Conference in Vancouver, Canada in 2010.
Susan D. Newman, Ph.D., R.N., who earned her nursing and doctoral degrees from MUSC, coordinated community agencies, local news media and technology to improve everyday life for people with disabilities. Her doctoral dissertation entitled, "Community Integration after Spinal Cord Injury: Using Photovoice to Identify Barriers and Facilitators," revealed environmental hurdles for people with disabilities which adversely affected their quality of life. She engaged people with spinal cord injuries (SCI) as co-investigators, and together they documented these barriers using Photovoice, a participatory research methodology, to collect evidence. Prominent among their findings was the public's misuse of accessible parking designed for people with disabilities. The data they collected indicated this constituted a major barrier for SCI individuals and others. With the assistance of the Charleston Post & Courier, Newman and her team asked South Carolina legislators to enact more stringent parking laws in an attempt to provide accessible parking for SCI individuals and others with disabilities. The legislation was passed in 2009 and signed into law by Gov. Mark Sanford.

Recipients of the Teaching Excellence awards, Amy Thompson, Pharm.D.; Gene Burges, M.D., Ph.D.; Teresa Kelechi, Ph.D., R.N., and Julius Sagel, M.D., were featured in the May 20 issue of the Catalyst, online at http://www.musc.edu/catalyst/archive/2011/co5-20professors.html.