By Dawn Brazell
Public Relations
It's not every day that you drive past yourself on a vehicle. Douglas Norcross, M.D., trauma surgeon in MUSC's Department of Surgery, said it shocked him the first time he saw himself on an ambulance.

"It was very strange. The first time I saw my face on the vehicle, I was sitting in traffic, and the thing pulled up next to me. I looked over and there I was, staring back at myself. It bordered on a surreal experience. The photographers did a great job making me look good. Not an easy task."
Dr. Douglas Norcross and Lisa Smith, PA-c, as pictured on a Meducare ambulance.

Norcross, who has played an influential role in MUSC's reputation as a high-ranking Level 1 trauma center, said MUSC's expertise and experience in injury and emergency care can't be matched by any other institution in the area.

"First and foremost, for people in the coastal regions of South Carolina, we are your trauma center regardless of where you get care for other problems. Like police, fire, and EMS, the MUSC trauma center is an important community resource that benefits the entire region."

Lynne M. Barber, director of marketing strategy, said the Meducare helicopter and ambulance wraps are an extension of the brand campaign launched in August 2010. The ambulances provide the opportunity to continue promoting MUSC's positioning statement, Changing What's Possible, while featuring employees who represent the brand, she said.

"These ambulances travel in many of our target areas where we attract patients. This strategy along with advertising patient, student and other constituents' experiences, clinical expertise, great outcomes and research advancements are what help MUSC advance its brand."

Getting the word out about MUSC's specialty areas can help save lives, said W. Scott Russell, medical director of MUSC Pediatric Emergency Medicine. He cites a recent report from the Institute of Medicine that found although children make nearly a third of all emergency room visits, a mere 6 percent of hospitals have all the pediatric supplies they need, only a quarter of hospitals have access to doctors board-certified in pediatric emergency medicine, and more than a third have no pediatric specialists on call at all.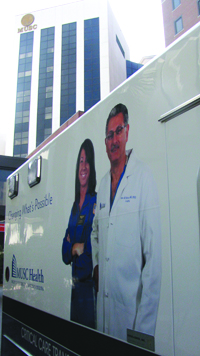 MUSC employees are the focal point on ambulance 'wraps' that highlight the influential role MUSC plays in handling trauma cases. Above is flight nurse Karen Ramsey and Dr. Samir Fakhry.

That's not the case at MUSC.

"We see over 20,000 pediatric cases a year. We have all the resources to be a Level 1 trauma center for children. We have seven board-certified pediatric emergency medicine physicians, two pediatricians, and two general emergency medicine physicians who work with us. We have three pediatric emergency nurse practitioners and are the only hospital in the Lowcountry that has access to all of the major pediatric subspecialists," he said, citing a long list of specialty areas from neurosurgery to orthopaedics.

"We are the only hospital in the region that can offer child life specialists and pediatric sedation services."
Bruce Crookes, M.D., the trauma program medical director for adults, said MUSC has been a state Level 1 since 1984. A Level 1 trauma designation is indicative of the resources that MUSC has available for the care of the critically injured.

Level 1 trauma centers care for the most severely injured patients who have the most complex, life-threatening injuries, 24 hours a day, seven days a week, he said.

The MUSC trauma program expects to become an American College of Surgeons Level 1 trauma center, a mark of distinction and dedication to trauma care. This national recognition is bestowed upon only a handful of trauma centers across the country.

Crookes said they care for more than 2,100 adult trauma patients per year. "Medical centers from across the state send us their most complex cases, as we have the expertise and resources that enable us to take care of these critically ill patients. When benchmarked against national mortality rates, our trauma service has consistently higher survival rates — a testament to our dedication to our patients."
Did you know?

MUSC admits 2,100 trauma patients per year. MUSC has 1,100 trauma activations annually.
43 percent of patients suffered traffic-related injuries, 26 percent were injured in a fall, and 8 percent were injured by a firearm.
Trauma surgeons are "in house" 24 hours per day, 7 days a week.
MUSC ranks in the top 25 percent for the number of severely injured patients treated in its comparison group of like-size trauma centers.
MUSC has a comprehensive trauma research program, including National Institutes of Health-funded studies and national presentations and publications that exceed the requirements for ACS COT (American College of Surgeons, Committee on Trauma) Level 1 verification.
MUSC has an established alcohol screening and intervention process for trauma patients.
The injury prevention program has initiated an Injury Prevention Campaign for MUSC employees.
MUSC participates in the ACS Trauma Quality Improvement Program, the trauma equivalent to the National Surgical Quality Improvement Program.
Trauma team members are available to give community talks on accident prevention. Call
792-0473 for more information.