Employees of the Month
Michelle Vandermaas, Child Life


"I would like to recognize Michelle for helping out the family of my patient. I am a PICU nurse and have been taking care of a sick 10-year-old boy. My patient's prognosis had worsened, and the parents knew they needed to explain this to his siblings, but were at a loss as to what to say. I contacted Michelle and she came in on her day off to help."
Nominated by Katherine Baldwin


Sarah Cline, Meduflex Team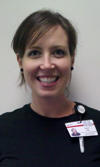 "A patient that Sarah saw for the first time was going to have a tube surgically placed later that day. The clinical reasoning behind placing the tube (including ventilator weaning and long term nasal tube enteral feedings) seemed to justify such an invasive procedure for this patient. He had not tolerated swallowing without becoming nauseated. He not only tolerated the procedure, but was allowed to have a regular diet."
Nominated by Alexandra Milhaupt




Janice Petrilla, MRI Clinical Services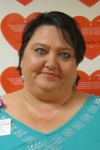 "Janice has been instrumental in supporting, encouraging and educating our patients in the Epilepsy Center. Recently there was a patient undergoing surgery — she called his wife throughout the day to offer support. Janice took her lunch break to go visit this family bringing his wife an angel and a flower."
Nominated by Kelly Cavins
Brittany Perry, 8E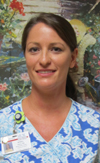 "Our patient, Smiles, has a long psychiatric history and an organic brain injury due to a stroke and abuse — all played a part in Smiles' dynamics. Her caretaker died suddenly and violently and there was no one to care for her. Brittany took charge of all of Smiles' needs while still tending to her other patients."
Nominated by Cindy Little
Letter of thanks to Stuart, team
By Kevin McDerby
A Patient's Father
In the fall of 1992, my son, Sean McDerby, entered the Corp of Cadets at The Citadel. I thought his freshman year as a "knob" would be about the most difficult challenge he would face in life. It didn't take long to realize that I was sadly mistaken.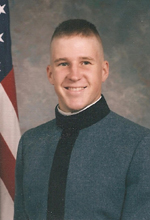 Sean McDerby

The summer after his freshman year, Sean studied abroad in Spain. Upon returning to The Citadel, he became involved in several extra activities. Those activities included skydiving and rugby. It was after a rugby match that I was contacted by a doctor from the college infirmary. Sean reported to the infirmary after he was severely bruised during the match. The doctor had a serious concern after reviewing the blood work that he had ordered. Sean's platelet count was extremely low. The doctor scheduled an appointment with a hematologist in the Charleston area. That doctor was unable to identify Sean's disorder. Sean returned home to Delaware for more medical evaluations. It was after those evaluations that we learned how seriously ill Sean was.

We had never heard of a blood disorder called aplastic anemia until a local doctor presented us with his suspicions. He explained the gravity of the disease and then cautioned us not to start doing research on our own. The doctor added that he could treat Sean as well as any other doctor in the United States. Always one to follow the doctor's orders, my wife and I began to explore what it meant to be afflicted with aplastic anemia. To put it mildly — we found that we only had one chance to save Sean's life.

The research that we were warned not to do led us to the Aplastic Anemia Foundation. Marilyn Baker, the executive director of the foundation, told us she was not in a position to recommend a treatment center for Sean. She went on to explain the she would have different sets of parents contact us and tell us what their families experienced when their child was diagnosed with aplastic anemia. Each set of parents delivered the same message — contact Dr. Robert K. Stuart at the Medical University of South Carolina. It was only a coincidence that Dr. Stuart was located close to The Citadel in Charleston.

Dr. Stuart welcomed Sean as a new patient. Dr. Stuart continued to monitor Sean's condition until it was determined that our son would need a bone marrow transplant. Fortunately, Sean's fraternal twin, Scott, was an excellent match to be a donor. Sean requested a medical discharge from The Citadel in the first semester of his junior year.

Dr. Stuart's team at MUSC included Dr. Debra Frei-Lahr and nurse practitioner Christine Schaub. Without a doubt, this group of dedicated medical professionals combined their talents and saved the life of our son. They actually saved Sean twice. Shortly after Sean was discharged into the care of the doctors at home, he developed a severe case of acute graft-versus-host disease. Sean was near death when the team at MUSC dispatched its plane to Delaware to bring him back to South Carolina.

Although Sean still had lingering effects from chronic graft-versus-host, he was well enough to return to The Citadel. Sean's fellow cadets whom he entered The Citadel with would be graduating as the Class of 1996. Sean was too far behind in his studies to be part of the graduation in June. He was still determined to be part of the Class of '96. He doubled his courses and completed his studies in time for a December '96 graduation. He is indeed a member of The Citadel Class of 1996. His membership was in large part because of his own fight and determination, but it was made possible through the efforts of Dr. Stuart and his excellent team at MUSC.

Upon graduation, Dr. Stuart made arrangements for Sean to have follow-up care at the Graft vs. Host Clinic at Johns Hopkins University. Dr. Georgia B. Vogelsang and nurse practitioner Vicki Anders took Sean under their wings. He had his extreme battles with the graft-versus-host disease, but with the excellent care provided at JHU, Sean was able of fulfill his lifelong dream. In 1998, Sean became a trooper with the Delaware State Police. Sean has recently been transferred to the aviation section within the state police. He has started an 18-month course to become a trooper medic. His desire to be a medic was born out of his own fight for life battling aplastic anemia. As they say, pictures say 1,000 words. The smile on his face tells it all. With the support of many, faith in God and his doctors, Sean fought the good fight and has overcome all odds.

While writing this article we learned about the passing of Dr. Debra Frei-Lahr. She lost her battle to cancer, a disease that she had saved so many from. Our thoughts and prayers are with her family.