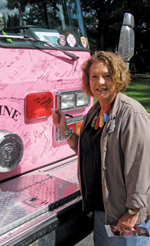 Sharon Shepherd circled the fire truck looking for just the right place to sign her name. "This is the coolest idea ever," she said grinning broadly as she signed her name as a 15-year survivor of cancer.

Employee Sharon Shepherd adds a message to a fire truck.

Participating in the Pink Heals Tour, she had a chance to meet the firefighters and volunteers who tour the country to support women battling cancer or who have battled cancer. MUSC also hosted a Women's Cancer Awareness Fair.
Shepherd, manager of MUSC's gift shop, said the support is crucial. Volunteer Danny Baughman, a firefighter from High Point sporting magenta Nike shoes, agreed. He said he loves hearing all the stories of hope and inspiration. The fire trucks travel the country bearing the signatures of all those inspired to write a message. MUSC was one of 73 stops on a 90-day tour during this leg of the journey.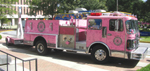 Five pink fire trucks and a motorcycle escort visited the Horseshoe Sept. 27 as part of the Pink Heals Tour to raise awareness of the issues women face battling cancer.

Baughman's truck is named Debbie in honor of his mother-in-law who had breast cancer. Firefighters are the type who want to rescue people, but it was agonizing for his family to watch her battle the disease. What helped her conquer it was the support she received, he said. It's why he goes on the road.

Jean Day, a certified registered nurse anesthetist at Rutledge Tower and cancer survivor, signed the truck "for all those before me, for me and for all those after me – Survivor 2009.' Women tend to be the medical caretakers in the family and forget what they need to do to take care of themselves, she said.
Employees Sharon Shepherd, above, and Jean Day, left, add their signatures to the trucks. The signatures never get erased.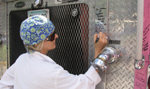 "I'm so touched. It's amazing," she said as she finished adding her name. "I think women should rock on. It's very inspiring for those looking for hope and reassurance that everything's going to be OK. It's reaffirming."