By Cindy Abole
Public Relations
As people finalize their personal and family evacuation plans for hurricanes and severe weather, owners of pets are reminded to include them in their personal evacuation planning.

Sue Pletcher, director of Health Information Services and Patient Placement, volunteers with other employees to operate the on-campus emergency pet care center. The program is open only as a final alternative to designated employees working during a hurricane or natural disaster (response team A). It is offered only on a first-come first-served basis and by reservation. There is a $10 fee per pet to enroll in the center, which accepts dogs and cats only. There is a three-pet limit per employee.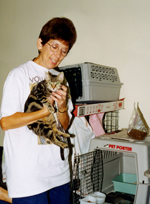 Sue Pletcher, along with other employees, operates the emergency pet care center.

"Pets can be as vulnerable as their owners when it comes to hurricanes, floods, fire and other disasters. The key is for owners to be prepared and plan ahead," said Pletcher, herself a cat and dog owner.

In previous years, the medical center provided an emergency pet care center for designated employees who were unable to make other arrangements. The pet care center will be in a designated area of the Ashley-Rutledge Patient/Visitor Parking Garage. Employees will be able to drive up to the designated pet drop-off area.

The North Charleston Coliseum serves as an SPCA-sponsored emergency pet shelter. It, as well as several private boarding facilities and kennels, are available to support Tri-county area residents.

Immunizations for dogs and cats should be current: dogs — rabies, DHLPP/C, and ITT (Bordetella), which must be given five days prior to boarding the animal for it to be effective; and cats — rabies, FVRCP and feline leukemia.
Owners should be prepared to provide their pets' immunization record; any pet medications (two-week supply); a labeled crate; ID tag and collar; bowls and a three-day supply of food and water; plus the employee's work documentation authorizing them to work during a weather emergency (response team A).

Pletcher emphasized the important bond shared between pets and family.

"Our pets are part of our families, so we need to plan for their well-being just as we do our two-legged children. Pre-planning is essential. All pet owners should make arrangements for their animals during a weather emergency and not expect others to accommodate last minute requests."

For information about local kennels and boarding facilities, refer to "boarding facilities for pets" in MUSC's Severe Weather Plan (Appendix E). To make reservations, email pletches@musc.edu.