By Cindy Abole
Public Relations
Charleston and Lowcountry South Carolina may have dodged another hurricane, but the near miss was a sober reminder to MUSC employees, students and residents to be prepared.

As the threat of heavy rain, flooding and wind associated with Hurricane Irene loomed over coastal South Carolina, a team of MUSC employees stayed vigilant activating response plans and moving forward to prepare the campus for the impending threat of severe weather.

During the week of Aug. 22, the campus' emergency operations staff met with university and hospital leaders to assess and communicate the possible threat of the hurricane to the institution, City of Charleston and South Carolina coast. Leadership turned to the institution's, departmental and research community's disaster preparedness and severe weather plans. As the storm approached later that week, University Risk Management activated MUSC's Red Button on the home page website and MUSC Alert System, a text, voice messaging, e-mail and desktop alert notification system established by the university as a real-time communications tool supporting campus-related emergencies.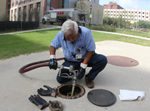 University maintenance staff's Efren Almonte checks the fuel level of one of several in-ground generator tanks that support the Basic Science Building and surrounding areas. Engineering & Facilities employees were busy with advanced preparations connected with Hurricane Irene.

Al Nesmith, director of safety and security, Wayne Brannan, University Risk Management director, and Brian Fletcher, clinical services disaster preparedness coordinator, have been down this path before. They manage the institution's emergency operations response network by conferring and consulting continuously with senior leadership from the hospital, university and other skilled emergency response team members representing various campus departments. They collaborate with leadership to enforce plans, communicate information and make recommendations and decisions to support the safety and security of employees, faculty, students and property.

Their recommendations underscore the American Red Cross message for evacuation pre-planning as in the case of hurricanes. According to Nesmith, employees should stay informed to the latest weather information and review their work area's emergency response plan. They also should establish their own personal emergency response plan, including an emergency supply kit, communications plan, evacuation routes and other checklists to ensure the security and safety of family and property.

"Every storm presents its own challenges and issues which makes it difficult for planners like us to completely prepare for it. In the early stages of a threat, we'll activate MUSC's weather plan, but won't outline details until 48 to 72 hours prior to a storm's impact," said Nesmith, commenting on the unpredictable nature of hurricanes.

On Aug. 23, the National Hurricane Center targeted Charleston in the storm's predicted track. Meanwhile on campus, some pre-hurricane preparations were under way, such as filling sandbags, picking up debris and topping off generator fuel tanks. The following day, Hurricane Irene's slight shift to the east reconfigured tracking models to show the storm's new landfall to be at North Carolina's Outer Banks and vicinity. For the Tri-county, authorities forecasted high winds, high surf and sporadic heavy rain.

For 2011, the National Oceanic and Atmospheric Administration (NOAA) and National Hurricane Center predicted an active Atlantic hurricane season with 16 tropical storms, nine hurricanes, with five reaching major hurricane status (Category 3 or higher), between June 1 to Nov. 31.

To prepare for storms like Hurricane Irene and other natural disasters, Nesmith reminds employees and students to stay informed using the MUSC Red Button, which is activated during an emergency on the MUSC.edu homepage, the MUSC Alert system and other department and student communications. He also advised employees to review MUSC's Severe Weather Plan, MUHA's Weather Plan and their own department's emergency operations/business continuity plans for any updates or policy changes.

For hospital employees, Nesmith's office distributes the medical center's emergency information green cards, which provides updated emergency phone numbers, a checklist of what to bring if working during a hurricane and instructions on how to access a recordable mailbox system that relays weather updates and other information.
Designated university department personnel or medical center employees involved in direct patient care may be required to stay on campus and work during a weather emergency. Employees are divided into two work teams, response teams A and B, who each must be prepared and equipped to stay for the duration of up to three days or more or provide relief support.

Other employees and students (undergraduate, graduate and post doctorate students, excluding residents) are considered non-designated personnel and should make preparations to evacuate at the university's announcement of canceled classes or rotations (via the Office of the Provost). Students who need help and are unable to evacuate on their own to a safe location should notify their individual colleges and be prepared to report to Room 100, Basic Science Building, at a designated time for evacuation to the nearest shelter. Once state and local authorities have determined that it is safe to return, the students will be transported back to campus.

Employees should dial 792-MUSC (6872) for any updated information, class cancellations and return to work status. Medical center employees can call 805-5010, enter 801 to hear an emergency weather update.
Local television and radio stations will provide the latest emergency information.

Students, faculty and staff can be prepared by assembling a hurricane kit.
It should include clothes, hygiene supplies, towels, water, food, medications, sleeping materials, flashlight with batteries, their MUSC ID badge, emergency worker car placard and cash.

To register for the MUSC Alert System, visit http://tinyurl.com/3kyblh2.

Know the difference
Hurricane Watch — (sustained winds of 74 mph or higher) Hurricane conditions are a threat within 48 hours. Review your hurricane plans, keep informed and be ready to act.
Hurricane Warning — (sustained winds of 74 mph or higher) Hurricane conditions are expected within 36 hours. Complete your storm preparations and leave the area if directed to do so by authorities
Make an evacuation plan
Identify ahead of time where you could go if you are told to evacuate. Choose several places—a friend's home in another town, a motel or a shelter.

Keep handy the telephone numbers of these places as well as a road map of your locality. You may need to take alternative or unfamiliar routes if major roads are closed or clogged.