MUSC's Hospital Diabetes Program was a winner of the Association of American Medical Colleges-sponsored Readiness for Reform Health Care Innovation Challenge. The award was presented at the Council of Teaching Hospitals luncheon Nov. 7, 2011 in Denver.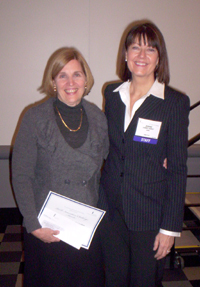 Dr. Kathie Hermayer, left, accepts the Readiness for Reform Health Care Innovation Challenge award from Dr. Joanne Conroy.

Joanne Conroy, M.D., the chief health care officer for the association, gave the award to Kathie Hermayer, M.D., who was representing MUSC at the meeting. The co-authors for the award were Patrick J. Cawley, M.D., Hermayer, Pamela Arnold, R.N., Mary-Eliese Merrill, R.N., and Louis Luttrell, M.D.

Overall, there were three institutional winners for the award: University of Cincinnati College of Medicine, Arizona Health Sciences Center and MUSC. All three winners received a check for $5,000 to further transform health care and the practices among academic medical centers. Additionally, University of Washington and the Children's Hospital of Wisconsin at the Medical College of Wisconsin were given honorable mentions.

A further review of the three winners' proposals can be found at https://www.aamc.org/icollaborative/.

According to Hermayer, diabetes affects 25.8 million people in the United States and another 79 million Americans are estimated to have pre-diabetes. Approximately 20 percent of inpatients at MUSC have a diagnosis of diabetes.

"On a daily basis at MUSC, approximately 130 to 150 patients have a diagnosis of diabetes," said Hermayer. "In response to these steadily increasing numbers, MUSC started an interdisciplinary program focusing on diabetes in 2003. The program consists of the Hospital Diabetes Task Force and the Diabetes Management Service."
The program has received Joint Commission Advanced Inpatient Diabetes Certification for Inpatient Diabetes Care.
"MUSC has demonstrated compliance with national standards and performance measurement tools to control costs and enhance productivity. These actions indicate that MUSC has the critical elements to attain success in the delivery of care to patients with diabetes," Hermayer said.