By Dawn Brazell
Public Relations
Not many people can say they've lost 390 pounds in life.

Clay Owens, 34, can. Now sporting a healthier 270-pound frame, the middle school history teacher from Hemingway, who recently had a skin removal procedure by Dennis K. Schimpf, M.D., said he feels he has his life back again after a long season of failures.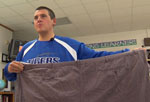 Clay Owens holds up size 72 pants he no longer wears after shedding 390 pounds. Watch a video at http://tinyurl.com/82bjgwc

The former athlete took a turn for the worse after he graduated from high school. He then worked for his grandmother, whom he adored, in her country store, but she was murdered on a day Owens, then 18, had taken the day off to watch a bowl game during the holidays.

Guilt haunted him because he was supposed to have been there. He coped with the stress by eating emotionally, he said. To add to the problems, he was in a bad car wreck that broke nearly every rib and set him back even more.
Owens settled into a routine of emotional eating and inactivity that culminated years later when he found himself in the emergency room in Georgetown in 2009 with a blood pressure of 41 over 30.

His wife, Suzie, watched as the people on either side of them in the emergency room died. She feared Clay would be next. A bariatric bed capable of weighing Owens was brought in, and the scale hit 660 pounds. Owens remembers his mother started crying immediately when they read his weight.

"I was always very prideful. I thought I could do it on my own," Owens said. He had tried many times to lose weight, and would be successful for a time, but then gain it back. "Six hundred and sixty pounds will kill your pride."

Medical professionals in Georgetown wouldn't touch him without him losing weight, he said, a catch-22 for him. He got a referral to MUSC for a gastric bypass. Surgeon T. Karl Byrne, M.D., didn't hesitate. "He told me, 'we can do it.'"

The next hurdle was figuring out how to pay for the $36,000 procedure since his state insurance didn't cover the procedure. As a history teacher and coach, Owens needed to raise $30,000. "That's what I make in a year teaching," he said.

He fell into a depression, and wanted to give up. His wife wouldn't let him.

"The closer we got the more agitated I got, and the more faithful she got."

Owens said he can look back and see the wrong turns he took in life. He worked two jobs in college and made bad food choices.

His weight gain interfered with his coaching job and had caused him to be removed from the football field, with his coaching restricted to the press box. With coaching as his passion, Owens hit a new low.

"I was miserable. I only did what I absolutely had to do. I taught behind my desk. I wasn't a very good teacher then. I'd sit in my truck and watch the team practice. Then I'd drive home, eat and go to bed exhausted."

Embarrassed by his weight, Owens said he would stay home on weekends. He would go to the mailbox and have to stop several times just to catch his breath. Stairs were brutal. "You can imagine having to walk 660 pounds up the steps."

He was limited in the public places he could go, including movie theaters. The worst part was to see how children were afraid of him, some even crying. "It just broke my heart."

Somewhere along the way Owens, who used to see himself as a fighter, gave up.

Fortunately, his community did not.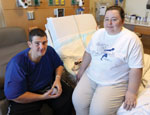 Clay and Suzie Owens in a room at Ashley River Tower Jan. 5 following a skin removal surgery.
After the wake-up call in the emergency room, Owens and his wife decided it was time. He put pride aside and asked for help. Owens said he was amazed how colleagues and students supported him. Each week a student would show up with a mason jar stuffed with money and change sent from another teacher who was raising money for him. His church had a community meeting to generate ideas and a wide range of fundraisers were planned from gospel singing to an auction.

Despite all the hard work, though, on Dec. 15 – just three days before the surgery – he was still $5,000 short, and the bill had to be paid up front.

"That Sunday morning, we went to church and I didn't want to be there. I didn't think it was going to happen. During the singing, the church phone rang. It never rings during church."

Owens said his pastor went back to answer it and came back telling Owens he could relax, an anonymous donor just gave him the exact amount he needed. It was a miracle, he said. Scared of the huge change coming in his life, Owens knew he couldn't let down all the people who had rallied behind him. He went in for the required psychological pre-counseling and found it very helpful.

"If your head's not right, you don't need to go through it."

Owens had the procedure done Dec. 18, 2009.

"Sometimes you need a kick in the butt and that kick in the butt can come from technology and doctors who think outside of the box. It's not a cure. It's a tool. I use that tool to lose weight. I knew if I didn't do my part, it wasn't going to happen."

Owens certainly has done his part. His breakfast of champions used to be a Mountain Dew with roasted peanuts and a honey bun, all staples in his grandmother's country store. That, of course, has changed, and he's had to get his family to support his healthier diet. As he dropped enough weight to be able to exercise, he found he loved the gym and he exercises twice a day. He did the Cooper River Bridge run last year.

A special moment came during Hemingway High School's 2010 football season when the team asked him to run out with them. Owens, who is back to coaching on the field, lined up with the team and began running out. The next thing he knew the team had disappeared, and it was just him running to break through the banner. It was an emotional time, he said.

Continuing to adjust to his lighter frame, Owens said he was pleased with the skin removal procedure he recently had done on his stomach and chest, having almost 50 pounds of skin and fat removed. The excess skin was pulling on his frame and he was experiencing some curvature in the spine. "It's a daily routine trying to keep the folds from getting infected."

Owens said he's grateful to his school, community and the MUSC medical staff who kept him encouraged. He's especially thankful for his wife. "She's taken a lot of flak for me. For the last two years, she's put everything into getting me straight."

His goal now is to educate youth and the public about following a healthy lifestyle and advocating for state health insurance coverage for gastric bypass.

"There's no reason insurance companies shouldn't cover this. The state plan will take care of things for smokers as long as you pay extra money a year to let them know you smoke, but they won't cover a person who's overweight to get a life changing, life altering, life extending surgery. For the life of me, I can't understand it. I went five times to the hospital in 2009 before my surgery and we added up what they spent for me for all that time in the hospital, and they could have paid for my gastric bypass two and a half times."

Owens said it feels good to take responsibility for his health, and that the gastric bypass and skin removal surgeries have given him his life back.

"This has been a great platform for me. Obesity had become my life. Instead of eating to live, I would live to eat," he said. "Now, I'm a fighter again."
Gastric bypass procedure is 'jump-start some morbidly obese people need' to get back on track
MUSC surgeon T. Karl Byrne, M.D., said he's pleased how well Clay Owens is doing.

"Weight loss is about genetics, willpower, exercise, portion control, choosing healthy food, environmental effects, lifestyle choices, correction of maladaptive eating behavior and many other factors."

Owens has been doing all the right things. Byrne, who also is advocating for state health insurance to cover gastric bypass, said the procedure is the jump-start some morbidly obese people need to be able to get back on track.

"The public needs to know that this is not cosmetic surgery. The complications of obesity can be life threatening and very expensive over the long term. Studies show that bariatric surgery can save lives and dramatically reduce health care costs."

Byrne said Owens' story shows how much stress not having coverage places on a state worker.

"Clay had to raise the money himself with community help. Medicaid, however, covers bariatric surgery so if you are unemployed and on Medicaid you can be covered. It makes no sense that because you are a state worker you are not covered for surgery."