The word is out; MUSC is becoming tobacco-free March 1.

In support of those employees and students who choose to quit smoking as a result of this policy or who are simply ready to kick the habit, MUSC President Ray Greenberg, M.D., Ph.D., requested that smoking-cessation resources be made available free of charge for a six-month period to coincide with the new tobacco-free campus policy.

A multi-disciplinary team of professionals, led by Susan Johnson, Ph.D., of MUSC Employee Wellness, has developed a comprehensive program, MUSC's Pitch the Pack, to help smokers quit — free of charge.

"Knowing that a combination of medication and therapy creates the best results, we are providing classes, counseling, and medications free of charge for our folks," Johnson said. "We have options to meet every schedule and preference – whether it is face to face, online, telephonic or simply to go solo with the help of cessation medications."
The program uses resources from the MUSC community – from psychologists and physicians to pharmacists and dietitians – to provide as many opportunities to help employees and students quit.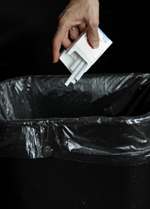 Pitch the Pack is available to MUSC students and employees free of charge through June. The first step is to complete the online enrollment form at http://www.musc.edu/medcenter/health1st. Questions will direct the student or employee to services, including one month of nicotine replacement therapy or a one-month starter supply of prescription medication as recommended by a physician.

Students will be directed to Student Health or Counseling and Psychological Services for individual consultations. Employees should visit their physician or may be referred to MUSC Family Medicine or Rapid Access physicians for assistance. Coupons for medications must be redeemed at MUSC pharmacies or MUSC Family Medicine to take advantage of the free offer. Registration for classes is available through the online enrollment form and includes:

Smoking Cessation Clinics – Monthly three-session cessation clinics facilitated by a multidisciplinary team, including physicians, psychologists and trained staff free of charge for MUSC employees, students and family members. Classes meet once a week at 5:30 p.m., Room 102, Colbert Education Center & Library beginning Jan. 23.

Non-Smoking Section – Offered by the Institute of Psychiatry, Quit Smoking class from noon to 1 p.m. on the first Wednesday of each month, at the Center for Drug and Alcohol Programs (CDAP), 4-North, beginning Feb. 1. The class is conducted by a licensed clinical psychologist and offers suggestions to help achieve a smoke-free lifestyle. Anyone is welcome to attend; no pre-registration is needed.

Freedom From Smoking Clinic – Developed by the American Lung Association and provides a group setting for adults to work through the quitting process. There are eight group sessions led by trained facilitators and physicians who are also MUSC employees. This clinic is open to all MUSC employees, students and spouses. This seven-week clinic meets at noon on Thursdays in Room 102, Colbert Education Center & Library beginning April 19.

In addition to group classes, the following individual resources are available in person, online or by phone:

Pharmacy Counseling – Clinical pharmacists are available at any MUSC pharmacy to answer questions related to cessation medications and conditions. Participants may be eligible for one-on-one specialized counseling with a credentialed pharmacist through the pharmacotherapy clinic if referred by an MUSC physician. This program provides an individualized smoking cessation program developed by ambulatory clinical specialists that may involve behavior modification, medications and other resources. For information, call 876-0199 or visit http://www.muschealth.com/prescriptionrefill/.
Quit for Life Program – This online program was developed by the American Cancer Society and Alere Wellbeing and is offered by the State Health Plan and BlueChoice to subscribers and their covered dependents. It includes a short term supply of nicotine replacement therapy free of charge and individual phone consultations by an individual quit coach. Free for employees covered under the state health plan, visit https://www.quitnow.net/scstatehealthplan/ProgramLookup/EnrollNow/ to register.

The SC Tobacco Quit Line – Free to all S.C. residents, call 1-800-QUIT-NOW (784-8669) or visit http://www.scdhec.gov/health/chcdp/tobacco/quitforkeeps.htm.

Participants who register for Pitch the Pack through the online enrollment form may be eligible to participate in a study using a smart phone app designed to relieve stress activated urges to smoke, led by researchers Frank Treiber, Ph.D., and Jeanette Andrews, Ph.D., of MUSC College of Nursing. In addition, all participants will receive a complimentary success kit filled with gifts to help them successfully stop smoking such as pedometers, stress balls, exercise bands, passes to the Wellness Center and coupons for a free beverage at MUSC cafeterias. Follow-up consultations and support groups will be available to ensure long-term success.

For information on Pitch the Pack, call 792-1245 or email musc-empwell@musc.edu. Other opportunities to learn about resources will be provided on Tobacco Free Tuesdays the month of February. One-hour information sessions will provide employees and students the opportunity to learn about cessation options during their lunch break. Classes are scheduled at noon in Room 113, Colbert Education Center & Library. Information booths will also be set up in various locations between 11 a.m. and 1 p.m. on Feb. 14, 21 and 28.

For information on MUSC's Tobacco-free campus and policy, visit http://www.musc.edu/tobaccofree.

"MUSC is committed to creating a culture of wellness and providing these services is just one step in our journey to a healthier community and a healthier South Carolina," said Johnson. Visit http://tinyurl.com/7ll6y5n.

To view a video of Respiratory Care's Amanda McGarrigle, visit http://tinyurl.com/7lm3fe2. McGarrigle talks about the effects of carbon monoxide found in cigarettes.