More than 100 students and staff gathered to remember Dr. Martin Luther King Jr. at a Jan. 17 ceremony at St. Luke's Chapel.

This student-driven program featured talks from guest speakers, music from multiple gospel choirs and spoken reflection. MUSC students also honored Marvella Ford, Ph.D., a behavioral scientist and cancer epidemiologist with Hollings Cancer Center's Cancer Disparities Program, with an award for her dedication, service and work with the Lowcountry's African-American community and her ongoing efforts that embody and exemplify characteristics promoted by King.
Dr. Marvella Ford, left, accepts the MUSC 2012 MLK Award from Elena Gore, a biostatistics and epidemiology student.

This event was sponsored by the Black History Intercollegiate Consortium, which is composed of The Citadel, Trident Technical College, Charleston Southern University and MUSC.

Top three winning essay winners are Allyson Dodson, left, Andres Rodriquez and Raena Hariharan.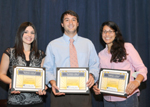 At MUSC's campus, the annual Dr. Martin Luther King Jr. Commemorative Program and Student Essay Contest was held Jan. 12. MUSC students were invited to write a 1,200 word essay reflecting on King's quote: "All progress is precarious, and the solution of one problem brings us face to face with another problem." The top three essay winners received a plaque and cash stipend. First place went to P. Andres Rodriguez, College of Medicine; second place, Allyson Dodson, College of Nursing; and third place, Raena Hariharan, College of Medicine.
To read the winning essays, visit http://tinyurl.com/6u6nuc9.