MUSC hosted a special exhibition of images from Ghana, West Africa, as part of its global health strategic initiative.

More than 200 people attended the Jan. 12 celebration that Cynthia Cupit Swenson, Ph.D., associate director of the Family Services Research Center (FSRC), described as a vivacious linking of West African and Lowcountry culture and an introduction of Charlestonians to the village of Okurase in the eastern region of Ghana.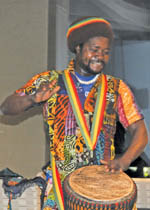 Samuel Nkrumah Yeboah - "Powerful" - performs. Pictured below is Djole, a West African dance/drumming company from North Charleston.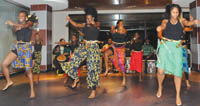 The evening began with a performance by Djole — a youth West African dance and drumming company from North Charleston. Samuel "Powerful" Yeboah and Ayodele Scott, his colleague from Sierra Leone, followed with a Tamaraneh (coming together) performance.

MUSC President Ray Greenberg, M.D., Ph.D., highlighted the university's global strategic initiative and introduced Yeboah, who updated the group on the building of the vocational school and hopes for a medical center. Gerald Bybee, a renowned photographer from San Francisco, spoke about his experience in Okurase and development of Okurase: Portrait of a Village.

Swenson said the event raised $630 toward the 2012 Village Health Outreach. Funds will be used primarily to purchase malaria testing kits and anti malaria medications. "But, critical to the work in Ghana was the connections made and partnerships forged that evening and the days that followed," she said.

Project Okurase's building goals are to complete the vocational school and begin job training programs and to conduct significant work towards completion of the medical center in 2012. Swenson said the plan is to develop an exchange program between Ghana and MUSC in clinical research and health care.

All aspects of Project Okurase (Opportunity, Knowledge, Understanding, Renewed Health, Arts-Based, Skills Training and Education) are guided by the people of the village and the goal is to develop strategies and interventions to resolve key issues that are contributing to significant health problems.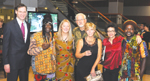 Dr. Ray Greenberg, Ayodele Scott from Sierra Leone, Dr. Cynthia Cupit Swenson, Gerald Bybee and Dr. Mary Sanders from San Francisco, Roberta Sokolitz and Samuel Nkrumah Yeboah from Ghana gather for a group photo.

In the News See the recent Post and Courier story, visit http://tinyurl.com/86oe34p

Swenson said Okurase is becoming a teaching village. As strategies are learned and implemented to overcome its key health issues, those strategies will be taught to people in other villages in Ghana and beyond by and through the people of Okurase. FSRC projects, part of MUSC's Department of Psychiatry and Behavioral Sciences, reach across the globe and typically involve community-based services and research on a treatment called multisystemic therapy.
For more information on Project Okurase or how to support its mission, visit http://www.projectokurase.org/about_us/.