By Cindy Abole
Public Relations
Five MUSC nurses were recognized for excellence and outstanding contributions to health care in the Palmetto state by the South Carolina League for Nursing. The 2011 Award for Excellence was presented to MUSC nurses during the annual awards banquet Nov. 11 in Columbia.

Award recipients include Jeanne Barriera and Melinda Biller, Children's Hospital, June Darby, Melissa Forinash and Leah Ramos of the University Hospital. Tiffany H. Williams, a nursing instructor in the College of Nursing, received a teaching scholarship.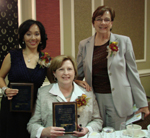 MUSC nurses Leah Ramos, from left, June Darby and Melissa Forinash were among six nurses recognized for nursing excellence as recipients of the 2011 S.C. League for Nursing awards. Not pictured are Children's Hospital honorees Jeanne Barriera and Melinda Biller. College of Nursing's Tiffany H. Williams was a recipient of a teaching scholarship.

Barriera is an advanced practice nurse honored for her contribution to evidenced-based practice in breastfeeding. A lactation consultant in MUSC's Lactation Center, Barriera works with very low birth weight infants and their mothers to increase breastfeeding rates among term mothers and infants.

Biller is nurse manager of the Pediatric Intensive Care Unit. She has been instrumental in promoting an interdisciplinary, evidenced-based practice to ensure a high level of specialty care in her 11-bed unit.

Described as a collaborator and advocate for her nurses, Biller is involved with improving programs for patient safety.
Darby is a 40-year nursing veteran who works as the administrator for the Neuroscience Service Line. Darby began working at MUSC in 1998 as a manager of the Adult Medical Surgical Services area in Ambulatory Care and later as director of nursing for Therapeutic Services in 2004. She serves as president of the S.C. Organization of Nurse Leaders.

Forinash, director of patient care systems and business support services, OCIO, was recognized for her excellence and experience working in nursing and health care information technology. A nurse of 36 years, Forinash has been involved in multiple key hospital system applications and nursing informatics programs combining the effective use of technology and health care to improve the patient experience.

Ramos is nurse manager of the 9East Neuroscience Intermediate Unit, a 23-bed step-down unit and one of the primary units for the Joint Commission-accredited Primary Stroke Center. Named recently as MUSC Nurse Manager of the Year, Ramos is regarded as a mentor, leader and role model to her staff and colleagues.

Williams received both her undergraduate and master's degrees in nursing from MUSC. With 18 years of pediatric nursing experience, Williams is an active advocate for families parenting children with special needs. She works with her faculty practice at the Franklin C. Fetter John's Island site and MUSC school-based health clinics in the Tri-county.