Nurses and staff gathered Jan. 18 for kick-off events promoting the hospital's commitment to the Magnet designation journey.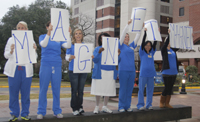 Nurses cheer and lend support to MUSC's commitment to excellence and quality outcomes. Watch a video at http://tinyurl.com/786movz

The events featured a football theme with refreshments, goodie bags and a chance to win prizes. MUSC medical center executive director Stuart Smith recognized the event with a football kickoff at Ashley River Tower and the portico.
A Magnet designation for nursing excellence and quality outcomes is the next step in the hospital's five-year MUSC Excellence journey and is also a component of the clinical services strategic plan.
Stuart Smith prepares to score by kicking a football commemorating MUSC's Magnet journey.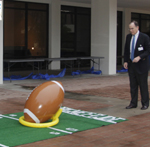 Visit http://www.nursecredentialing.org.

According to Marilyn Schaffner, Ph.D., R.N., administrator for clinical services and chief nursing executive, Magnet designation is the highest honor a health care organization can receive for its nursing excellence and quality outcomes.

The Magnet Recognition program of the American Nurses Credentialing Center is acknowledged as the achievement of nursing excellence. Today, more than 390 health care organizations are Magnet-designated.