MUSC is joining the American Medical Association (AMA) and health care professionals in urging the United States Postal Service and the Citizen's Stamp Advisory Committee on Stamp Development to create a stamp in 2014 to commemorate the 50th anniversary of the 1964 U.S. Surgeon General's Report on Smoking and Health.

K. Michael Cummings, Ph.D., a professor in the Department of Psychiatry & Behavioral Sciences, is working with AMA and other health professionals to encourage the Postal Service to create a commemorative stamp. Cummings, section leader of tobacco control in the Hollings Cancer Center Prevention and Control program and internationally-renowned expert on tobacco control policy, created a traveling exhibit to show the committee that issues commemorative stamps that there is support.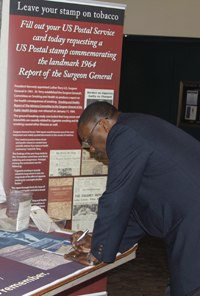 Safety & Security's Archie Reid, security coordinator in the Institute of Psychiatry (IOP), fills out a card in support of a commemorative anti-tobacco stamp. Employees may visit the exhibit located at IOP and complete a card supporting the stamp through January. To sign a petition online, visit http://blumarchive.com.

The exhibit, which was featured at the association's meeting last November, is titled "Leave your stamp on tobacco." Cummings encourages faculty and students to fill out a post card or sign an petition online (http://www.blumarchive.com/) urging the Postal Service to create the commemorative stamp in time for the 50th Anniversary for the landmark 1964 report.

"The first report on smoking and health published by then Surgeon General Luther Terry, M.D., on Jan. 11, 1964 was historic in that it really changed people's views about smoking and health and helped to create awareness about how dangerous cigarette smoking is," Cummings said.

"The United States has issued stamps urging support for breast cancer research, prostate cancer screening and the fight against alcoholism. Sadly, the United States is not among the 65 countries that have issued an anti-smoking stamp."

In 2010, Jeff Terry, M.D., president of the Medical Association of the State of Alabama, and cousin of Terry, submitted a resolution to AMA calling on the U.S. Postal Service to issue a stamp commemorating the 50th anniversary of the 1964 report on smoking and health. Since that time dozens of organizations have joined the campaign for the stamp.

Andrew Kraft, M.D., director of Hollings Cancer Center, said MUSC is proud to be joining other health organizations in the campaign to encourage the U.S. Postal Service to adopt a stamp recognizing the Surgeon General's Report. "We strongly support this effort to give postal customers a tool for spreading tobacco prevention awareness."