by Cindy Abole
Public Relations
College of Medicine students, honored for their humanism in medicine and patient care, were recognized Sept. 11 as the newest members of the Paul B. Underwood Jr. Chapter of the Gold Humanism Honor Society (GHHS).

A total of 23 student inductees joined College of Medicine Dean Etta D. Pisano, M.D., chapter namesake Underwood, faculty advisors Sherron Jackson, M.D., and Robert Turner, M.D., and GHHS faculty at an induction ceremony held in their honor.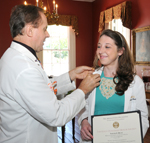 Third-year medical student Joy Dean receives her Gold Humanism Society pin from Dr. Rusty Turner, program faculty co-advisor, at the Sept. 11 induction ceremony of 23 students. The students were selected by their peers for demonstrating the values of humanism and professionalism in medicine. The Gold Humanism Honor Society was established at MUSC in 2005 to recognize students, residents and role-model faculty in medical education for demonstrating patient-centered medical care. More than 90 percent of U.S. medical schools sponsor a Gold Humanism Honor Society.

"Each of you elevates the values of humanism and service as medical students by providing clinical care, leadership, compassion and dedication to service. There's no greater honor than to be recognized by your peers for demonstrating these empathetic and honorable values," said Pisano.

The students were presented with a certificate and pin and later recited the society's pledge committing themselves as role models and mentors to humanism in medicine, inspiring colleagues to promote humanism and advocate for quality patient care and improving health care for all.

Bonnie Brooks, a third-year medical student from Columbia, said she chose medicine as a career because of the care she can continually provide and the ability to give back to society. "I try to give the best level of care to my patients all the time. I'm proud to receive this honor."

Fellow student Craig Thomas, a native of Jamaica, was humbled that the award recognized excellence as voted on by his student peers. "In our training, sometimes we wonder how we're doing in our efforts to provide patient care. Receiving this type of feedback is invaluable and encouraging. It reminds me that I'm on the right path in the work that I do in providing quality patient care."

The 2013 inductee class includes Brooks, Amy E. Brown, Jessica S. Connett, Shana N. Coshal, Thomas Criswell, Thomas Cunningham, Sarah Dean, Brett Hoffecker, Jocelyn Kerpelman, Ryan Kroll, Spencer Lovelace, Neil Naik, Ashekia Pinckney, Stephen Potter, Daniel Reed, Stefanie Robinson, Phillip Rodriguez, Andrea Shipp, Mary Darcy Slizewski, Thomas, Thomas Tyner, Chelsea Webb and Rahim Wooley.

The recipient of the Leonard Tow Humanism in Medicine Faculty Award also was recognized during the luncheon.
The award was presented in May to Ashlyn H. Savage, M.D., by the Arnold P. Gold Foundation. The dean recognized Savage, assistant professor in the Department of Obstetrics and Gynecology, who works at MUSC Women's Health at Cannon offices. Savage, who is a 2002 COM alumnus, is the director of OB-GYN's residency training program. She was chosen for her compassion and empathy with patients and her mentorship with students, residents and colleagues. Savage was joined by previous Tow Humanism awardees Rachel Sturdivant, M.D., and Marian Taylor, M.D.

The Leonard Tow Humanism in Medicine Award also is sponsored by the Arnold P. Gold Foundation and honors practitioners who value humanism in medicine.
Friday, Oct. 12, 2012