by Cindy Abole
Public Relations
Emergency medicine personnel can provide a higher level of patient care thanks to a new seamless and efficient medical documentation system.

Beginning Nov. 1, MUSC's adult and pediatric emergency departments and Chest Pain Center will launch Epic ASAP Emergency Department Information System. It will allow physicians, nurses and health care teams to track patients throughout the course of their visit within an emergency care setting, allowing for faster diagnoses.

ASAP will be the medical center's second Epic modules to support the new electronic health information system. Epic's Ambulatory EMR system was successfully piloted and installed throughout the enterprise this past spring.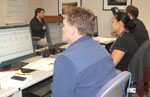 Physician assistant Kevin Harmon, Epic trainer Lydia Diaz and Dr. Neil Glover, Emergency Medicine, undergo Epic ASAP training with Will Rublee, Epic-credentialed ASAP trainer, Oct. 16. For Epic training and information, visit http://epic.musc.edu.

Physicians and staff members at the MUSC Emergency Department and the Epic project team have worked collaboratively for several months on the new system. Epic program executive sponsor and chief medical information officer Bob Warren, M.D., praised their commitment, energy, teamwork and innovation. "The new ASAP system being implemented throughout our three emergency departments is the next step in MUSC moving into one single medical record for our patients."

Other Epic modules, now in the design phase, are scheduled to launch July 1, 2014. They include inpatient clinicals for pharmacy, radiology, labor and delivery, and oncology, as well as OR and anesthesia, and a "revenue cycle" for patient registration, scheduling and billing.

Warren emphasized that "we're all the designers," and he encouraged representatives from all parts of the MUSC Health community to own the effort. Epic program administrator Melissa Forinash is leading the effort.

Epic allows users to manage patient records electronically by replacing paper charts with electronic records. More importantly, the system allows physicians and staff to make better medical decisions, set standards of care and treatment protocols, and save money by decreasing administrative costs. It also provides real-time contacts with patients through MyChart, the patient Web portal, and with referring community physicians through EpicCareLink, a module MUSC will install in early 2013.

In MUSC's Emergency Department, ASAP will offer customizable secured access to information at inpatient and outpatient clinics and ancillary locations, and an intuitive workflow that features menus, toolbars and command lists for easy navigation.

"More importantly, each member of the patient care team will see and have access to the same information at every step in a patient's care. In short, we will see a better coordination of care," Warren said.

As the Lowcountry's only tertiary and quaternary care facility qualified to provide the highest level of medical care for the most compromised patients, the adult and pediatric emergency departments and Chest Pain Center continue to experience record growth in patient visits, according to Christine M. Carr, M.D., medical director of emergency medicine.
The adult ED accommodates 150 to 170 patients per day or about 50,000 visits annually. It's estimated that all three emergency care areas manage more than 75,000 patient visits per year.

"It's difficult to appropriately document the details of a patient's emergency visit on pen and paper. Epic ASAP will change things for us," said Carr.

MUSC pediatric emergency medicine medical director Scott Russell, M.D. is equally impressed with ASAP's potential and functionality.

"Epic ASAP opens up a whole new world of efficiency within an electronic medical record system. It will allow us to provide good reporting and communication with staff, improves accuracy and quality, and supports our research initiatives in providing evidence-based medicine approaches to how we can improve care for patients."

To prepare for ASAP's system launch, more than 1,400 ED staff members have completed or are currently undergoing training. Physicians, nurses, patient care technicians and support teams from other ancillary departments are being trained to use the system and the electronic medical records.

ASAP project director and manager Brett Seyfried said his team plans to overstaff during the transition period with ASAP-trained nurses and physicians. Additional Epic support staff, credentialed trainers and area superusers will provide round-the-clock support.

"Although our timeframe for the Epic ASAP installation has been aggressive, we haven't lost any of the applications and functionality we knew we wanted in place. We are set to go live with a robust tool in our emergency departments," Seyfried said.
Friday, Oct. 19, 2012