MUSC's Institute of Psychiatry (IOP) was named Hospital of the Year by the National Alliance on Mental Health (NAMI) South Carolina chapter. In addition, Elliott Levy, M.D., associate clinical professor in the Department of Psychiatry and Behavioral Sciences, was named Mental Health Professional of the Year and Mary Ann Gallagher was named Volunteer of the Year. Awards were presented at the annual mental health conference Sept. 28.

IOP was selected based on advancements in brain stimulation treatment, recognition as a comprehensive depression center by the National Network of Depression Centers and its active role in public health and advocacy for persons with mental illness. The hospital was also recognized in 2005, 2006 and 2008.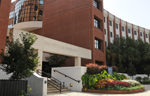 The Institute of Psychiatry received Hospital of the Year from the National Alliance on Mental Health South Carolina Chapter Sept. 28.

Levy, in addition to his position with the Department of Psychiatry and Behavioral Sciences, serves as the medical director of the Charleston Dorchester Mental Health Center and associate director for residency training and mental health section chief at the Veterans Administration Medical Center. He is active in patient and family education events, speaking on the stages of depression, medications and prognosis for the future.

Gallagher, a retired teacher, spends her time volunteering twice a week at the Seasons program in the Department of Psychiatry and Behavioral Sciences. Seasons is a group-based day treatment program for adults 40 years old and older. She also facilitates the NAMI Connections Support group in Summerville, is part of the Parents and Teachers as Allies program and is a Provider Education presenter. In addition, she serves on the Institute of Psychiatry Patient Family Partnership Council.

NAMI also recognized Jim Mueller, another person from Charleston as the Solid Gold Member of the Year, the individual recognized for long-term commitment to NAMI South Carolina. He recently renewed his family NAMI membership for the 35th year. He and his wife Jessie, along with four other families, formed a support group in the 1960s that became NAMI Charleston Area. In June, he accepted the treasurer position for the Charleston Dorchester Mental Health board. He has been an advocate for mentally ill individuals and is still attending family support meetings and educational meetings at
the age of 90.

Friday, Oct. 5, 2012