by Cindy Abole
Public Relations
As incoming students were finding their way across campus, 26 South Carolina College of Pharmacy (SCCP) students were settling in as first-time participants in a diversity workshop.

The event was one of three workshops held for first-year pharmacy students on campus. Instead of hearing about schedules in an introduction on classroom technologies, the group participated in a discussion about themselves, fellow students and the need to understand the similarities and differences between them in an effort to build an inclusive campus environment.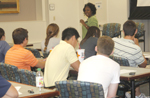 Dr. DaNine Fleming addresses first-year pharmacy students during one of the school's diversity workshops.

Students Ashley Chandler, a native of Anderson, and Reham Al-Horaibi, a student from Saudi Arabia, listened and participated in the discussion led by diversity leadership team members B. DaNine Fleming, Ed.D., Laurie Charles, Ph.D., of the Department of Education and Student Life, and David Howell-Keith of the College of Health Professions.

This type of conversation and training goes beyond anything that's taught in the classroom, said Chandler. "It's effective, personal and honest."

The Appreciating Diversity Exposure workshop is part of a scheduled diversity training offered to all first-year students from MUSC's six colleges.

Diversity and cultural competency training was introduced by Willette Burnham, Ph.D., executive director of student programs and director of the Office of Student Diversity, to MUSC in 2007 under the National Coalition Building Institute, of which the institution became a campus affiliate. The non-profit institute offers training programs and workshops to prepare organizations in welcoming diversity, reduce prejudice and manage controversial issues. MUSC is a member of the Carolina Coalition, composed of a number of core institutions in South and North Carolina committed to providing diversity training for faculty, staff and students to help maintain a diverse student body within an educational environment.
The program is managed by Fleming, who is an assistant professor and director of training and intercultural education in the Department of Education and Student Life. According to Fleming, providing this level of understanding and knowledge can create meaningful relationships among the students. These benefits also expand to the patients and communities that MUSC serves.

"The goal of the training and workshops is for students to get to know themselves and each other in order to work within interprofessional teams and learn how to provide medical care for a diverse patient population. What we ask is that participants be open to this process so that they can be more accepting to people as individuals. Understanding this is the first step in how health care professionals can provide quality patient-centered care."

Building cultural competence within health care organizations and educational programs is a priority in training and preparing today's health care workforce.

MUSC's fall diversity workshops were scheduled for medicine and pharmacy students. Because of year-round classes, health professions students received their training in the summer, while nursing and graduate studies students conduct their training this fall. Dental school students will complete the workshop training in spring.

The late August-September sessions marked the first time MUSC-based pharmacy students participated in formal training of this kind. It was designed to introduce students to various aspects of diversity, defining social identities and understanding cross cultural issues.

SCCP has been committed to the interprofessional education of its students and working with diverse patient populations for several years. Student participation in the multidisciplinary Community Aid, Relief, Education and Support Clinic (CARES) and training with the Kerr Drug's Enhanced Pharmaceutical Care Center, are just a few examples of the college's effort to promote diversity among its students, faculty and staff, according to Cathy Worrall, PharmD, assistant dean for student affairs and experimental education, SCCP.

"Our goal is to provide a diverse college environment that's welcoming and supportive to diversity and that can create new ideas and perspectives that can inspire pharmacy faculty, students and practitioners to serve their communities well," said Worrall.

With three SCCP campuses in Charleston, Columbia and Greenville, the need for this type of training is timely and invaluable, according to Worrall.

Working with a Diversity Committee, the SCCP-MUSC Campus leaders were able to redefine its five-year diversity plan to focus on developing an inclusive environment that looks beyond race and ethnicity, but also addresses gender, religion, age and other factors.

According to Worrall, the type of training provided by Fleming and her team is likely to improve relationships between pharmacy students and other students, faculty and staff within the campus as a whole and bring connections to the communities where students work and practice.

At academic health centers, educators are changing curriculum and training to prepare a better health care workforce that works in teams and is sensitive to various aspects of diversity and cross cultural education.

At the pharmacy school and most of MUSC's colleges, students are encouraged to join in on the dialogue and interaction with their peers on issues of diversity through facilitated discussions, workshops and guest speakers in an effort to create an inclusive community.

"Providing diversity training ensures that all students are recognized, valued, respected and included. This effort provides an opportunity to increase awareness and understanding through dialogue and achieving a level of cultural competence. We want to create a campus where students can build meaningful relationships and prepares them for academic and social adjustment on a diverse campus environment," Fleming said.

For information about training and intercultural education or to register for the next welcoming diversity workshop, visit http://academicdepartments.musc.edu/trainingedu/.

Friday, Oct. 5, 2012