MUSC's Stacy Renouf found an easier way to cut the 82 miles distance between her job as a Sodexo registered dietitian in Charleston and her patient in Bamberg.

On Sept. 21, Renouf became MUSC's first dietitian in the state to provide medical nutrition therapy to a patient using telehealth video teleconferencing.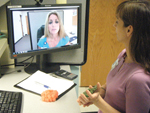 MUSC Sodexo dietitian Stacy Renouf, right, simulates a telehealth call with a colleague.

Renouf's patient was hosted by a family practice physician's office in Bamberg using equipment supplied by MUSC as part of the Virtual Telemedicine Consult Clinic (VTCC) project, which is supported by a Duke Endowment Grant. The grant was awarded to Samir M. Fakhry, M.D., professor of surgery.

Planning for the visit has been a yearlong process.

MUSC's registered dietitians worked with VTCC, Telemed Operations and Development Council to establish protocols allowing a host site and a dietitian to complete this appointment.

The patient was checked in and triaged by clinical staff at a participating family practice office. Next, a staff member called Renouf using a computer and special internet connection using the Movi/Jabber software for desktop video conferencing.

Together both patient and dietitian were able to discuss the patient's nutritional concerns and needs in real-time. As follow-up, educational materials were faxed to the participating physician's office for the patient.

Renouf and other registered dietitians will continue to engage with rural primary care physicians in South Carolina to expand these services to all patients.

For information on VTCC, contact Laura Langston, project coordinator, at langstl@musc.edu.