by Gerry Le
Public Relations
The MUSC Children's Hospital after-hours care and specialty clinic in Mount Pleasant is now open for business. The clinic is specifically geared toward children up to the age of 18 who need non-urgent care.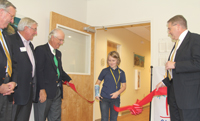 Eleanor Ross, 11, cuts the ribbon officially opening the new MUSC Children's Hospital Pediatric After Hours Clinic. Helping celebrate is Isle of Palms representative Mike Sottile, from left, Mount Pleasant Mayor Billy Swails and Sullivan's Island Mayor Carl Smith. MUSC's John Sanders, right, holds the ribbon.

The clinic's procedures include, but are not limited to, pediatric cardiology, pediatric genetics and heart health. The after-hours care clinic, which is the first one in the area, is hoping to advocate for patients when their doctors' offices are closed. The clinic is also open from 8 a.m. to 4 p.m., Monday through Friday, for specific pediatric specialty clinics.

This 10-exam room facility run by Dan Kitchens, R.N., clinic manager, will work closely with the MUSC Children's Hospital after-hours care and specialty clinic in North Charleston. Due to the limited scope of services, provisions can be made for patients requiring transfer to another facility.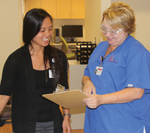 Registration representative Sophia Bacani, left, discusses operation procedures with registered nurse Cindy Dollason at the new After Hours Care & Clinic Specialties. The clinic is located at 2705 Highway 17 North, (corner of Highway 17 North and Hamlin Road). Hours of operation are 4 to 10 p.m., Monday through Friday and noon to 7 p.m., Saturday, Sunday, and holidays. For information, visit MUSCkids.com/afterhours.

"Our after-hours clinic allows us to really meet the needs of the community," said Kitchens. "Our North Charleston site has done a lot for the pediatric population and their families in over a year that they have been open. We are hoping to do the same thing in the Mount Pleasant area."

According to Kitchens, the Children's Hospital after-hours care and specialty clinics at MUSC are committed to providing family- and child-centered care. The staff, through collaboration and commitment, provides excellence in patient care, teaching, and research in an environment that is respectful to others, adaptive to change and accountable for outcomes.
For information on the clinic, call 876-2222.

Friday, Nov. 16, 2012