by Vanessa Clark
Cystic Fibrosis Center
The MUSC Cystic Fibrosis (CF) Center was recently awarded the 2011-2012 Quality Care Award at the North American Cystic Fibrosis Conference, held in Orlando, Fla.

Along with three other centers – Children's Hospital at Oakland, Dell Children's Medical Center of Central Texas and University of Texas Southwestern, Austin, and the University of Texas Health Science Center at Tyler – MUSC's CF Center was commended for ongoing dedication to developing and implementing quality improvement projects that use clinical outcomes data to improve patient care.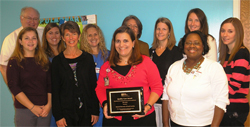 Members of the MUSC Cystic Fibrosis Center accept the 2011-12 Quality Care Award. Back row from left are: Michael Bowman, Jessica Webb, Meredith Rhame, Mary Lester, Cheryl Kerrigan and Vanessa Clark. Front row from left are: Sara Wienke, Nina Keegan, Isabel Virella-Lowell, Sarah Bishop and Julie Ostrye. Not pictured: Patrick Flume, Sue Gray, Wendy Bullington, Brandi Taylor, Antine Stenbit and Katherine Lewis.

Cystic fibrosis is a genetic disorder that primarily affects the lungs but can also affect the pancreas, liver, and gastrointestinal tract. During the past five years, MUSC's interdisciplinary CF team has been involved in a variety of projects. These have examined such diverse areas as pulmonary exacerbations and lung function, nutrition education efficacy, cystic fibrosis related diabetes identification and treatment, the pediatric-to-adult care team transition program, inpatient Tobramycin monitoring, and, most recently, reeducation of airway clearance as a means to improve adherence.

Robert J. Beall, Ph.D., president and CEO of the CF Foundation, commended the four award winners at the conference: "We're fortunate to have such amazing partners in our care centers who live and breathe our CF mission and work tirelessly to improve the quality of life for those living with CF."

Patrick Flume, M.D., program director and adult center director, and Isabel Virella-Lowell, M.D, pediatric center director, ensure their patients receive the highest level of care by staying on the cutting edge of new drug trials, emerging therapies, and research initiatives. It is thanks to this type of commitment to patient care that more than 30,000 people in the United States diagnosed with this chronic disease can now expect to live into their 30s, 40s, 50s, and further
CF team members don't abandon their fight against the disease after working hours. Many take the fight off of MUSC's campus by promoting and participating in community events and activities that raise both awareness of the disease and much-needed funds for new and ongoing research.

Flume spoke at the DeBordieu Celebrity Pro-Am golf tournament recently to educate participants about the disease, its complications and ongoing research trials. Proceeds from the tournament go to benefit the South Carolina chapter of the Cystic Fibrosis Foundation. Last year, the event raised more than $135,000.

Mary Lester, the respiratory therapist for the team, makes it a priority to educate future practitioners about CF and the role respiratory therapy plays in maximizing lung function throughout life. For two years, Lester has presented these topics to students at the Healthcare Occupations Student Association meeting at the Charleston County School of Math and Science.

Sue Gray, the nurse coordinator for the adult CF team, demonstrated her commitment to ending CF by participating in the Cycle for Life bike ride held in October. The team was led by Jason Gregg, a patient at the MUSC CF Center and an avid cyclist. Gregg's team raised more than $2,000, and the ride raised more than $42,000.

If you're still in a giving mood after the holiday season, consider participating in the Great Strides walk. Held May 4, 2013 in Charleston, this walk is the CF Foundation's largest national fundraising event of the year.

Friday, Nov. 23, 2012