by Gerry Le
Public Relations
Giving thanks is just one step away from giving back, which is what two MUSC employees are proud to be doing.
Lowcountry Furniture Bank, a non-profit organization which collects slightly used furniture and distributes to families in need, was started in June 2011 by Steve Paterniti, information system analyst for MUSC's Business Development and Marketing Services Department. "This is our way to support the community," said Paterniti. "Our vision is to involve community partners such as school groups, civic groups and church groups that are wanting to help give back too."

Paterniti said he was inspired to create the organization because of a home makeover show on HGTV. "They were making over a home in Atlanta, and they showed the Furniture Bank of Metro Atlanta. I started thinking it was a good way to give back to the community," he said. "Think about that extra bed or dresser you have lying around. There's no sense in it collecting dust. Instead, give it to people who really need it."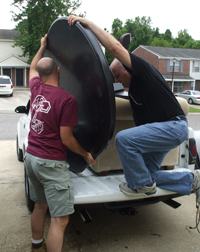 Business Development & Marketing Services' Steve Paterniti, right, helps load a table in the bed of his truck for the Lowcountry Furniture Bank. Paterniti collects furniture for families in need. Visit http://www.LowCountryFurnitureBank.org for a list of items that are needed. For information, email stevep@lowcountryfurniturebank.org.

Susan Lucas, MUSC referral call center supervisor and board member for Lowcountry Furniture Bank, is also giving back through the program. "[Paterniti] has just contagious enthusiasm for this. He's so passionate about this organization and helping people. I just had to help," said Lucas. "He is usually such a quiet guy. But when he talks about the organization, he's just so excited. He puts so much time into it, and I just think it's great."

Time isn't all that Paterniti puts into his organization. Originally Lowcountry Furniture Bank wasn't accepting any cash donations, just furniture. "We wanted the organization to be finalized through the IRS as an official 501(c)(3) before we took any donations," he said.

On Oct. 19, the Lowcountry Furniture Bank received its IRS approval letter. Cash contributions will now go toward operating expenses and plans for a permanent warehouse, which is becoming more and more important.

"[Paterniti] uses his own truck to move things," Lucas said. "He and his wife use money from their own pocket, so I help by giving them my garage to use as extra storage for now. They give so much. I figure it's no problem. I can park in the driveway."

As of Oct. 19, the bank had collected 72 pieces of furniture and distributed 44 items to 14 different individuals and families. The families that the furniture bank provides for are typically single women with children, some that have been battered and are fortunate to even be alive. "We're serving the less fortunate and giving back from what we have already been given," said Lucas.

One of the first deliveries that was made came from a tip from a teacher about her student. "The teacher came to us and said that she had a student that was sleeping on a blanket on the floor," said Paterniti. "We asked if they needed anything else, and we were told they didn't have a couch either." He checked the bank's inventory and loaded up a couch and a couple beds. They surprised the family by setting everything up in the apartment before they came home. The single mother was brought to tears because of the generosity. It's because of this moment that Paterniti believes giving back is worthwhile.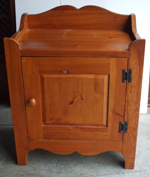 This used cabinet was donated to the furniture bank.

Lowcountry Furniture Bank has many sister organizations and sponsors such as East Cooper Baptist Church, East Cooper Outreach, Uncentered, and Gracious Gifts. But the bank needs donations in order to continue to help these families. "We hope to help keep providing for them as needed. Kids grow up and need bigger beds. Furniture gets old, and we want them to know we're not going to abandon them," said Paterniti.

For information, email Paterniti at stevep@lowcountryfurniturebank.org.
Furniture bank drive
The furniture bank will hold a drive from 8 a.m. to 1 p.m., Dec. 1 in the QQ parking lot, across from 135 Cannon St., on the MUSC campus. Visit http://www.LowCountryFurnitureBank.org for a list of items that are needed.

Friday, Nov. 23, 2012