Bella, a 7-pound Scottish terrier puppy who belongs to an MUSC patient, found a temporary home with Hollings Cancer Center infusion nurse Bonnie Vasenda.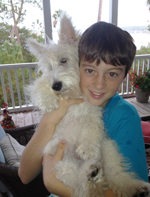 Kyle will be taking care of Bella until her owner is discharged from MUSC.

The patient went to her follow-up doctor's appointment Nov. 12. Since the temperature was cool and Bella was too young to be boarded, the puppy was left in her owner's vehicle with water and a cracked window. Without warning, Bella's owner was admitted to MUSC. Vasenda, the nurse who was caring for Bella's owner, decided to bring the puppy home. With new treats, toys and food, Bella is now spending time with Vasenda's 12-year-old son, Kyle, and happily waiting for her owner to recover.

Friday, Nov. 23, 2012