The MUSC Pastoral Care staff recently presented the sixth annual Caring Spirit Award to Tyrone Vanish.
The award is presented each year in conjunction with national Pastoral Care Week, the purpose being to honor one faculty or staff member for his/her commitment and support. Four people were nominated for the award by the Pastoral Care staff, and it was difficult to select just one.

The annual Caring Spirit Award recognizes:

Spiritual care of patients and families

Support of the MUSC Pastoral Care mission

Effort to foster community among clergypersons and hospital staff

Support of this year's Pastoral Care Week theme, "Giving Voice"



Vanish, who works in the surgical-trauma intensive care unit (STICU), was nominated by the chaplains for his compassionate care of patients and their families. According to the Pastoral Care staff, Vanish sees the person and not just the patient. "He does a wonderful job of making the STICU run smoothly and unselfishly works with lots of heart and compassion," said Rev. Terry Wilson, clinical staff chaplain and manager.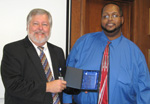 Pastoral Care Services' Dr. Terry Wilson, left, clinical staff chaplain, presents Tyrone Vanish, STICU, with the Caring Spirit Award. Vanish was nominated by the chaplains for his compassionate care for patients and their families.

Wilson said Vanish always strives to be attentive to the fact that all patients are "spiritual" and have a need for compassion and human sensitivity during their suffering and pain. He does a wonderful job of being steady, faithful and consistent. He also regularly supports and helps the mission and work of chaplains.

In accepting the award, Vanish recognized and credited his peer group and the team he works with in the STICU as being a vital part of who he is as a health care provider.

Other nominees this year for the award included: Caroline DeLongchamps, guest relations representative in the Children's Hospital; Mary Ernst, R.N., perinatal outreach coordinator; and Johan Zamoscianyk, adult emergency department technician.

The chaplaincy staff support MUSC faculty and staff members who "give voice" and ensure the spiritual and pastoral care needs of patients and families are given the highest priority.
Friday, Nov. 23, 2012