Carolyn Elaine Reed, M.D., renowned cardiothoracic surgeon, educator, mentor and beloved oncologist, died Nov. 16 after a short illness. She was 62.

A native of Farmington, Maine, Reed was the Alice Ruth Reeves Folk Endowed Chair of Clinical Oncology and a professor in the Division of Cardiothoracic Surgery, Department of Surgery. Reed joined MUSC in 1985 as an assistant professor in the Division of Cardiothoracic Surgery. She was the first woman clinical surgical faculty member to join MUSC's ranks and succeeded Edward F. Parker, M.D., known as the father of thoracic surgery in South Carolina.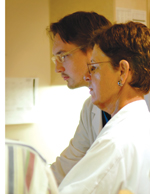 Dr. Carolyn Reed discusses the results of a scan with a pulmonary resident. Donations may be made to the Carolyn E. Reed M.D. Chair in Thoracic Oncology by going to http://hcc.musc.edu/giving and clicking Online Giving.

She advanced quickly in her career at MUSC and was promoted to associate professor in 1989 and professor in 1997. She played many significant roles in the development of the Hollings Cancer Center, serving as associate director for clinical affairs (1998-2000), director of the cancer center (2000-2004) and associate director of medical affairs (2004-2012). She achieved a national and international reputation as a thoracic surgeon and oncologist with specific expertise in lung and esophageal cancer. A respected surgical educator, she was committed to medical student, resident, and physician teaching and mentorship. In 1987, she received the Student Teaching Award and was continually nominated for Golden Apple awards.

An active clinical researcher and principal investigator for numerous research grants and clinical trials, Reed was a strong advocate for finding successful treatments to cancer. She was the author of more than 100 peer-reviewed publications and journals including 20 book chapters. She was editor of the textbook, General Thoracic Surgery (7th edition), which is recognized as the bible for general thoracic surgery. She worked with multiple editing boards and presented at more than 120 national and international thoracic surgery meetings.

Throughout her career, Reed held memberships with many surgical associations and organizations including the American College of Chest Physicians, Society of Thoracic Surgeons, American Association for Thoracic Surgery, American Surgical Association and the Halsted Society. She also served in leadership roles with the Society of Thoracic Surgeons, Council of the American Association for Thoracic Surgery and the Southern Thoracic Surgical Association, where she was president in 2006. Reed was the first woman appointed to the American Board of Thoracic Surgery and served two-year terms as vice chair and the board's chairman.


Dr. Carolyn Reed

Reed was born March 4, 1950, the daughter of Margaret E. Reed and the late Clayton E. Reed, of Farmington, Maine. She completed her undergraduate studies at the University of Maine in 1972 and received her medical degree from the University of Rochester. She completed her general and cardiothoracic surgery training at the New York Hospital-Cornell Medical Center. Reed spent an additional year training as a fellow in surgical oncology at the Memorial Sloane Kettering Cancer Center before moving to South Carolina.

Of the numerous honors that she received, perhaps the one that meant the most to her was being selected as the commencement speaker in 2005 at her alma mater, the University of Maine, at which time she was awarded an honorary degree.

Reed was recognized as a superb clinical surgeon and as a leader in the field of thoracic surgery throughout the world. It was truly ironic that she succumbed to cancer — a disease that she spent her life trying to cure.
She is survived by her mother, twin sister Joyce Greenacre, and other family.

To read Reed's entire obituary from The Post and Courier, visit http://www.legacy.com/obituaries/charleston/obituary.aspx?pid=161151699#fbLoggedOut

Memorial Service
A memorial service honoring Carolyn E. Reed, M.D. will take place at 3:30 p.m. Wednesday, Jan. 9, at St. Luke's Chapel. Due to the expected overflow of attendants at this event, a video feed will be coordinated at several on-campus auditorium locations. Additional details about this event will be shared at a later date.
Friday, Nov. 30, 2012