by Ashley Barker
Public Relations
The MUSC family was shocked on Jan. 19, 2002 when Anthony "Tony" Pirraglia, 47, a liver transplant coordinator and Meducare flight nurse, was shot and killed while trying to help a car wreck victim on Cannon Street.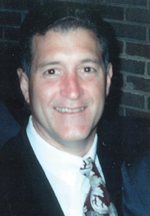 Tony Pirraglia, a liver transplant coordinator and Meducare flight nurse, was killed on Jan. 19, 2002.

Pirraglia left behind a wife, Cindy, two sons, and 11-year-old daughter Maria. More than 10 years later, the memory of Tony is alive and well within Maria Pirraglia, R.N., who joined the MUSC Meduflex nursing team in August.

"These are the same halls that he walked. These are the same people he interacted with," Maria said. "When they see me, they see him too. This is the last thing that I can really hold on to and be able to say, 'This was my dad. This was his life.'"

Maria found out quickly that her father was loved by his co-workers. She learned that his nickname was "spicy" because he brought hot Italian sausages to eat at work, and they both shared the same smirk.

"When I'm concentrating or when someone says something really funny, I get this look on my face," she said. "It's kind of hard to describe, but people are like 'Oh my God, you look just like your father.'"

Although it is hard for Maria to remember everything about her dad, she remembers clearly that he carried himself well and was creative, often coming up with nicknames for everyone in his life.

"He was my dad. He was a very tall, confident person," she said. "As an Italian, he had the trademark thick hair and prominent eyebrows. But they didn't deter people from loving who he was: a family man first, nurse second."

Soul searching for dad
Becoming a nurse was not an easy conclusion for the 22-year-old.

"I had envisioned for myself to be the starving artist of the family, writing and playing the piano," Maria said. When he died, she said she felt like someone should follow in his footsteps. So after some soul searching that's exactly what she did.

She graduated from the University of South Carolina Upstate with a bachelor's degree in nursing and focused her job search on MUSC.

"I live, eat, sleep, breathe nursing. I just love it," she said. "I feel like I walk among geniuses at this hospital."

With her father always in mind, Maria still plans on setting her own path. She dreams of going to graduate school and is hoping to become a midwife.

Walking down the aisle
As an adult now, Maria often wishes that she could pick her father's brain for advice on types of medications and symptoms for a particular diagnosis, but especially for tips on her upcoming wedding.

Now that I'm planning my own wedding, I've asked my mom a lot of questions about their wedding," she said. "They got married in 1974. The generational differences are pretty neat to see. "

Maria said she's "terrified" of walking down the aisle, something that typically happens with the father by the bride's side.
But she said her older brothers will be there in his place.

"I haven't asked them yet, but they'll be carrying me," she said with a laugh.

Someone else who will play a pivotal role in the wedding will be her mother. When Tony died, Cindy took on all of the family's responsibilities.

"She had to become the only parent, in a split second," Maria said. "It wasn't easy. She's a very strong woman."

Moving past the anger
Her family and job have helped Maria realize something that may be difficult for most people in her situation. She's moved past any hatred for the "kid" who was convicted for murdering her father.

"As much as I hate his actions, I've got compassion for people," she said. "That's just ingrained in me. Nurses don't hate people. You can say you hate what they say or hate what they do, but they're still human."

Marko Drayton, who was 19 at the time of the shootings, was sentenced to life in prison without parole for the murder of Tony and Charleston police officer Dennis LaPage, and 20 years in jail for wounding intensive care nurse Mandy Larson, according to the Post and Courier.

"To throw a little religion in it…God created him; God created me," Maria said.

A proud scholarship
Shortly after Tony's death, the transplant staff came up with the idea for a scholarship to honor their friend. The Tony Pirraglia Nursing Scholarship was finally awarded in October.

Jennifer McCrudden, R.N., a certified diabetic educator, was presented a $5,484 check. The scholarship, which came directly from donations made by folks around campus, was awarded by Chief Nursing Officer Marilyn Schaffner, Ph.D., R.N.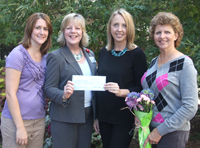 The Tony Pirraglia Nursing Scholarship was awarded in October, more than 10 years after Pirraglia was killed. Pictured from left: Maria Pirraglia, R.N., daughter of Tony; Dr. Marilyn Schaffner, R.N., chief nursing officer; Jennifer McCrudden, R.N., scholarship recipient; and Cindy Pirraglia, wife of Tony. McCrudden presented flowers to Cindy upon meeting her for the first time.

"I was really looking to honor Tony and his family," Schaffner said. "Everything lined up perfectly. We had a nurse who works at MUSC, who is a student in the graduate program at the College of Nursing, and we're recommitting our memory to Tony."

Maria couldn't be happier with the winner, especially after the way she interacted with her mother while accepting the scholarship.

"When I met (McCrudden), I knew she deserved it," Maria said. "She threw her arms around my mom and hugged me and gave my mom flowers."

McCrudden described meeting the Pirraglia family as "very bittersweet."

"We all became teary eyed upon introduction," McCrudden said. "I thought Mrs. Pirraglia was very warm and inviting. Maria was as well. But she was almost beaming talking about how she loves it at MUSC and that she was happy to be working where her father used to. She said it was like family."

While working full time as a nurse, McCrudden, who spent 10 years at the Medical University Hospital Authority, is pursuing a master's degree in nursing. She has maintained a 3.96 grade point average while doing both and said receiving the scholarship is an honor.

"Mr. Pirraglia died by being a good Samaritan and doing what he loved," she said. "He was selfless. This scholarship is helping me with my continued education as nurse. I hope I can make him and his family proud."

Friday, Nov. 30, 2012