by Ashley Barker
Public Relations
David Soper, M.D., the J. Marion Sims professor of obstetrics and gynecology, was in the United States Navy Medical Corp for 10 years, reaching the rank of commander prior to starting his academic medical career.

He joined the Navy in 1972 in order to pay for medical school at the University of Miami. After completing his residency in San Diego, Calif., Soper, along with his wife and two sons, was eventually stationed at Subic Bay, Republic of the Philippines, for two years.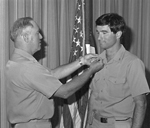 Dr. David Soper, right, reached the rank of commander in the United States Navy before he joined the MUSC staff in 1996. He will be thinking about the servicemen and their wives, whom he took care of while stationed in the Philippines, on Veterans Day. Soper also is vice chairman for clinical affairs at MUSC. To watch a video on Soper, visit http://bit.ly/MUSC_DrSoper.

"I had always been committed to an academic medical career, but I was struggling to find a niche. I liked it all. I liked delivering babies and performing gynecological surgery, making the choice of sub-specializing in either obstetrics or gynecologic cancer untenable. It was at this time I visited the St. Lazarus Hospital in Manila."

The hospital was full of patients with Third World diseases including tuberculosis, malaria and tetanus. Iron lungs were still being used. This started his fascination with infectious diseases, and he decided to apply for an adult infectious disease fellowship.

Initially, the Navy didn't want to assign an OB-GYN doctor to what was an internal medicine fellowship. It took a pivotal decision by then Rear Admiral Fran Shea, director of the Navy's Health Science Education and Training Command, to allow the additional training. "It almost chokes me up," he said. "She was able to recognize the possibilities and give me that unique opportunity. I'll never forget her."

Soper is one of a few OB-GYN doctors in the country with formal infectious disease training, and he now directs his own reproductive infectious disease fellowship.

"I really loved being a medical officer in the Navy," he said. "I would have stayed in the Navy for 20 years if I could have been more supported in my academic pursuits, research and education."

After 10 years in the military, Soper decided to leave the Navy and join the civilian ranks in an academic institution. He spent 10 years at the Medical College of Virginia before moving to MUSC in 1996.

"We take care of patients here in the Lowcountry that have husbands who are serving in Afghanistan or deployed on Navy ships," he said. "It impacts everything they do from normal family life to planning a pregnancy to celebrating birthdays."

On Veterans Day, Soper said he will be thinking about those servicemen. "My family has a familiar respect for those who serve in the military and an appreciation for the sacrifices they make," he said. "Veterans Day helps us remember those who have given the ultimate sacrifice for the freedoms we enjoy in this country."

Friday, Nov. 9, 2012