by Cindy Abole
Public Relations
There are two things that U.S. Air Force retired Chief Master Sgt. Jennifer Hooks carries as a reminder of her 26-year military career prior to joining MUSC in 2010.

One is a gold two-tone chief signet ring that she wears on her right hand. The signet features an image of an American Indian chief's head, which symbolizes the U.S. Air Force's top enlisted rank of a chief master sergeant. The Indian chief is regarded as the highest member of the tribe and as an elder whom others look to for leadership.

Tucked away in her purse, Hooks also carries a military challenge coin – a tradition that she and other military members embrace to commemorate their military affiliations or successful missions.

Hooks, the manager for the Performance Improvement Department in the medical center's Office of Quality and Patient Safety, said a military career afforded her opportunities in various clinical, administrative and performance-improvement experiences around the world.

Hooks has been able to translate that training and experience to health care and establish best practices for quality- driven systemwide projects. Her efforts cut costs for the medical center and improved overall patient care. Hooks' Air Force and post-retirement health care careers came full circle. Born in Brooklyn, N.Y., Hooks later moved to Marion, before enrolling in Trident Technical College's dental assistant program in Charleston, where she conducted her clinical work at MUSC. In the 1980s, she remembers the Charleston area as a vibrant military town with the Charleston Air Force Base, Charleston Naval Base and Shipyard, and The Citadel as active entities. She thought, "These folks are having so much fun. I want to be able to do that, too."

After much courting by the U.S. Navy and U.S. Air Force, she enlisted as an Air Force dental assistant in 1985. Her first assignment was working with the 78th Dental Squadron at Robins Air Force Base (AFB) in Georgia from 1985 to 1998. Robins AFB was home to the Air Force Headquarters Reserve Unit so she cared for military personnel, airmen and their families. There, she rose from the rank of airman to master sergeant.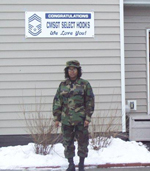 Jennifer Hooks, shown at her home in Alaska, is selected as chief master sergeant in 2005. Hooks is among just 1 percent promoted from the Air Force's enlisted ranks to chief. Watch a video on Hooks at http://bit.ly/MUSC_JenniferHooks.

Hooks also went on to hold assignments at Hanscom AFB outside of Boston; Elmendorf AFB in Anchorage, Alaska; McGuire AFB in Lakehurst, N.J.; and Joint Base McGuire-Dix-Lakehurst in Wrightstown, N.J., where she retired as superintendent and principle senior enlisted advisor of the 87th Medical Group, with the rank of chief master sergeant. She was in charge of the training, progression and performance of more than 200 enlisted personnel.

Throughout her career, Hooks completed a variety of leadership courses and professional training including the USAF's Noncommissioned Officer Leadership Academy, Chief Master Sergeant Leadership Course and other programs. She also earned both her bachelor's degree in occupational education (2005) and a master's degree in business administration (2010).

In 2007, Hooks participated in the Air Force's newest program to improve quality and performance in airfield operations, intelligence and defense activities. The program was based on the Lean Six Sigma methodology to support one mission at McGuire AFB. Hooks led the coordination, logistics and repackaging of several C-17 Globemaster cargo planes, which were scheduled to carry food, supplies, emergency equipment and additional people to Afghanistan. "The project we focused on could accurately measure space within a plane and reconfigure a plan that would logistically work," she said.
She continued to use the Lean Six Sigma strategies throughout her work as superintendent of the 305th Medical Group and 87th Medical Group.

At MUSC, Hooks trains and guides managers to understand and benefit from the Lean Six Sigma methodology in both the hospital and university departments. Her six-member team is able to visit a location and evaluate the work, methods and processes to make areas more efficient. "We strive to help people realize that some change is good," she said.
Chris Rees, director of Quality and Patient Safety for the medical center, is proud to have Hooks on his team.

"Jennifer's presence and work is helping to push some important concepts across MUSC. Her knowledge, training and understanding of key process-improvement concepts is an important part of our goals to meet the clinical enterprise's health strategic plans. She's a natural leader who's approachable, communicative, and dependable and a stabilizing force in an area that affects change," Rees said.

When asked what she misses most about military life, Hooks is quick to share her answers. "Travel and how many lives I've been able to touch, especially in humanitarian assignments," she said.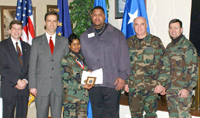 Hooks was involved in many missions, from providing support to accommodate Haitian evacuees following the 2010 earthquake to supporting community projects in Anchorage, Alaska.

She coordinated medical screenings and provided legal, housing and employment assistance to veterans. Those projects results in Hooks being named 3dWing and Team Elmendorf 2003 Senior NCO of the Year at Elmendorf AFB. She also assisted in the 9/11 investigation identifying Pentagon crash victims using forensic dentistry.

Hooks and her husband, Rod, a disabled Air Force veteran, strive to maintain a grounded family life for their children, Jazmin and Jalen.
MUSC Performance Improvement Department
In recent years, improving health care quality has become a top priority in the health care system. MUSC's Performance Improvement Department's passion is to improve health care performance. The continuous use of MUSC's standard approach Improve model has driven the success of many project teams. For information or to register for classes, visit http://mcintranet.musc.edu/cceps/I.M.P.R.O.V.E./index.htm.

Friday, Nov. 9, 2012