by Gerry Le
Public Relations
Retired U.S. Navy Supply Corps Capt. Robert H. Peiffer, administrative manager in the MUSC Department of Psychiatry and Behavioral Sciences, followed the traditional military way of life. He grew up in a military household — his father served in the Army for most of his childhood — and knew there was never a question that he'd follow in his father's footsteps.

Initially, Peiffer joined the Navy in 1965 because, he said, it offered the best college program. His intention was to go to college on a Navy scholarship, graduate and serve his four-year commitment before becoming a foreign service officer with the State Department. At the time, he would have preferred to go to Harvard or Yale, but the Navy chose Miami University in Ohio. "It was one of the best things that could have happened to me," said Peiffer. "My experience at Miami University was absolutely superb."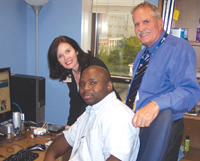 Bob Peiffer, right, who joined MUSC in 1998, with Nancy White and Anthony Scott. To watch the video, visit http://bit.ly/MUSC_BobPeiffer.

At the end of his four-year service, rather than go into the foreign service, he opted to stay in the Navy. Peiffer retired in 1991, after 26 years in the service. "I realized it wasn't a bad career choice," he said.

During his time in the Navy, Peiffer traveled to the ends of the earth. He worked in various submarines on the West Coast. He also spent four years in Hawaii and two years in the Philippines before arriving in Charleston.

While in the service, Peiffer said that one of his proudest moments was getting through the rigorous training to be qualified in submarine work. That is where he earned his submarine warfare insignia, known as dolphins. Subsequently, he transferred to the Navy Supply Corps where he was involved in handling finances and purchasing and advanced to the rank of captain. In his final Navy assignment, he was named commanding officer of the Naval Supply Center in Charleston.

What he misses most about military life is all of the sightseeing, he said.

"I worked with wonderful people in the Navy," said Peiffer. "But I also work with wonderful people here at MUSC. I ended up exactly where I was supposed to." Peiffer lives in Charleston with his wife of 20 years. For this Veterans Day, Peiffer hopes that citizens will give military officials the gratitude they deserve. "Veterans Day is an opportunity to tell our veterans we appreciate what they're doing. My son-in-law just got back from a tour in Afghanistan. I know I wouldn't trade places with them, so I appreciate what they're doing."

Friday, Nov. 9, 2012