by Cindy Abole
Public Relations
Three months ago, ophthalmologist Andrew Eiseman's days were full and his weeks were long while working as an oculoplastic surgeon. He performed complex eye reconstruction procedures for injured soldiers evacuated from battlefields in Iraq and Afghanistan. He also provided sight-saving consults to medical teams in field hospitals and remote facilities thousands of miles away using the most modern telemedicine techniques to support telesurgery and other technologies.

For 15 years, Eiseman was chief of the ophthalmic plastic and reconstructive surgery services at Walter Reed Army Medical Center in Washington, D.C., providing care to soldiers Marines, sailors and airman. For his final year, he was the chief of the newly formed ophthalmology service at the Walter Reed National Military Medical Center in Bethesda, Md., after Walter Reed and Bethesda Naval Hospital combined facilities in 2011.

Today, Eiseman has learned to translate his knowledge and trauma care experience to improving the eye health of his civilian patients at Storm Eye Institute (SEI). A decorated career military man, Eiseman retired from the U.S. Army as a colonel in October after 26 years of active duty service and became an associate professor of ophthalmology at MUSC in September.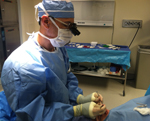 Storm Eye Institute's Dr. Andrew Eiseman is an oculoplastic surgeon who will help expand MUSC's Ocular Surgical Service.

For Eiseman, his retirement and move to South Carolina is a homecoming of sorts. Earlier in his career, Eiseman and his family were stationed in Augusta, Ga. and enjoyed their time in the South. When he began planning for the second stage of his career, Eiseman considered the challenge of establishing a private specialty practice, but saw the opportunities at MUSC and SEI.

"I'm very proud to be here and to have the chance to share my expertise with patients and staff at Storm Eye. I feel comfortable taking care of patients from throughout the state for ocular trauma care due to injury but also provide other reconstructive and cosmetic surgeries as well," said Eiseman, who is a 1986 graduate of the U.S. Military Academy in West Point. He went on to earn his medical degree in the Uniformed Services University of the Health Sciences in 1990 and later completed a fellowship in ophthalmic plastic and reconstructive surgery at the Wills Eye Hospital in Philadelphia.

At Walter Reed, Eiseman was prepared to conduct the most complex repairs and ophthalmologic reconstructions that would often involve the collaboration of neurosurgeons, otolaryngologists and other specialists. At SEI, he may not treat patients for injuries from bomb blasts, but he is prepared to care for patients suffering from other trauma that affects the eye. In addition to trauma, Eiseman can provide people with eyelid repairs after tumor removal, brow and lid lifts, wrinkle reduction using Botox and chemical peels.

"SEI provides a full spectrum of ophthalmic plastic surgery from reconstruction and cosmetic needs. Our Ocular Surgical Service is prepared to care for patients and their needs throughout the span of their lifetime," Eiseman said.

Although Eiseman was never deployed to the war front, his ocular surgical knowledge and trauma experience were best served closer to home. According to Eiseman, about 85 percent of all injured soldiers stationed in Iraq and Afghanistan are medically evacuated to Walter Reed hospital. The military's evacuation chain for injured soldiers triaged them first for emergency surgery in Iraq or Afghanistan before being transported to Landstuhl Regional Medical Center in Germany.
Next, patients would be sent for further medical treatment at either Walter Reed or Brooke Army Medical Center in Houston, Texas.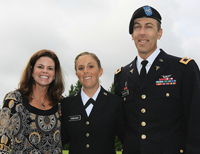 Army Col. Andrew Eiseman with wife Amy, and daughter 2nd Lt. Allison. The Eisemans also have a son, Mark.

According to Eiseman, the percentage of ocular injuries sustained by U.S. soldiers in combat has risen sharply compared to total war injuries. During the Gulf War, ocular injuries accounted for 13 percent of total injuries compared to Vietnam (7 percent) and World War II (2 percent).

In addition to providing ophthalmic plastic and reconstructive surgery and treatment of complex orbital diseases,
Eiseman will continue his research interests in lacrimal drainage system abnormalities, ocular trauma and telemedicine evaluation of eyelid lesions. He also is primary instructor of SEI's ophthalmology residents in oculoplastics and orbital disease management.

Friday, Nov. 9, 2012