by Ashley Barker
Pubilc Relations
One of the 57 American Council on Education (ACE) fellows for the 2012-13 academic year has chosen to spend three months at MUSC learning about the challenges and opportunities at universities.

Stephanie F. Gardner, PharmD, dean and professor of the College of Pharmacy at the University of Arkansas for Medical Sciences (UAMS), will spend November, January and April at MUSC, shadowing President Ray Greenberg, M.D., Ph.D, and working closely with the interprofessional education program.

"Dr. Gardner has just arrived on campus, but already she has had an opportunity to observe a great deal about what makes MUSC such a special place, particularly in the area of collaboration across disciplines," Greenberg said. "I am pleased that she decided to spend this prestigious fellowship here – it is a real honor for our institution, and it increases the visibility of our campus not only to Dr. Gardner, but to other fellows with whom she will interact."

Gardner, who has been a member of the UAMS faculty for more than 20 years, was selected to join the prestigious ACE Fellows Program, which was established in 1965 to "strengthen institutions and leadership in American higher education by identifying and preparing promising senior faculty and administrators for responsible positions in college and university administration."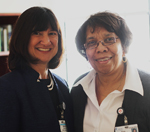 Dr. Stephanie Gardner, dean and professor of the College of Pharmacy at the University of Arkansas for Medical Sciences, left, was named a 2012 American Council on Education fellow. Dr. Emily Moore, professor and associate dean for academic and faculty affairs at MUSC, was named a fellow in 1989.

Each fellow is asked to pick 20 institutions that they are interested in visiting. After researching them, the fellow then narrows the list down to three before making an official visit.

"I heard that Dr. Greenberg was a phenomenal leader," Gardner said. "He has over a decade of experience at MUSC in his current role. He's very well respected across the country." When Gardner met Greenberg in person she knew picking MUSC was the right decision. "I could tell that he was someone who would be easy to talk with and that he would help me further grow as a leader."

Another important reason why she chose MUSC was Amy Blue, Ph.D., and her work in interprofessional education.
"During my interview here, she and several other faculty took me to dinner, and we talked for a couple hours about interprofessional education," Gardner said. "I knew that this would be the perfect place to learn about that as well."
She plans on learning as much as possible about interprofessional education at MUSC so that she can take her new knowledge back to UAMS. But she will also focus on developing her career and deciding the path that she will take.

"My ultimate goal is to find out more about the role of a provost and a president — normal day-to-day responsibilities and what their job is like," she said.

Gardner will shadow Greenberg for approximately 20 to 30 percent of her fellowship time, attending meetings and being included in the highest level of decision making for the campus. During the remainder of her time, she will attend interprofessional activities and schedule meetings with faculty members and administration.

"As she prepares for the next step in her career, I hope that the experiences that she gains here will help to further develop her already strong leadership skills," Greenberg said.

As a fellow, Gardner's career path looks promising. Sharon A. McDade, Ed.D., director of the program, said in a release that "of the more than 1,700 participants in the first 47 years of the program, more than 300 have become chief executive officers and more than 1,100 have become vice presidents or deans."

Although she is the first fellow to pick MUSC as its host institution, Gardner is not the only ACE Fellows Program member on campus. Emily Moore, Ed.D., professor and associate dean for academic and faculty affairs, College of Health Professions, and William Hueston, M.D., professor for the Department of Family Medicine, were named fellows in 1989 and 2008, respectively. Gardner called Houston prior to deciding on MUSC to get some advice about the community and scheduled a meeting with Moore during her second week on campus.

Moore said she tells new fellows two things. "One is the key of preparation. Selected fellows are knowledgeable, savvy, determined, passionate about higher education issues, and decisive in decision making," she said. "Thus, it is understandable that a person must be at the right point in their career for the fellowship to have the greatest meaning. …Secondly, it is not just the fellows who gain from the program, but also the host institution, the home university as well as the higher education agenda and the students it impacts."

ACE represents more than 1,600 college and university presidents nationwide. For information, visit www.acenet.edu.
Friday, Dec. 14, 2012