by Ashley Barker
Pubilc Relations
The MUSC community celebrated the completion of the 2012 Angel Tree program with a parade on Friday, Dec. 7. More than 3,500 toys were donated to the Salvation Army, along with approximately 100 bicycles and two $1,000 checks.
The West Ashley High School ROTC and the Charleston Police Department bagpipers marched in the parade, above. Santa and Mrs. Claus, left, rode in a military vehicle.

The Patriot Guard, Charleston Police Department, West Ashley High School ROTC, Burke High School Drum Corp, veterans, and Santa and Mrs. Claus marched from the Institute of Psychiatry to the Horeshoe via Calhoun Street to deliver the toys and bikes.
Patriot Guard members decorated their motorcycles. Right, volunteers gathered donated gifts after the parade.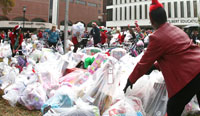 Friday, Dec. 14, 2012