by David Quick
Of The Post and Courier
Army veteran Damiene Green will never forget one of many horrific battles he faced in Iraq during a tour in 2004-05.
"I was standing up in the middle of an attack and rockets were firing and people were getting blown up all around me. I could barely see. People were telling me to get down," Green said. "I managed to get through it without a scratch."

When the Kingstree native said he couldn't see, it wasn't because of the conditions. He really couldn't see well. Never has.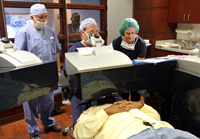 Kenneth Batie (background) watches Dr. George Waring IV perform Lasik surgery on his friend Damiene Green at Magill Vision Center last month. To watch a video on Lasik surgery, visit http://tinyurl.com/brr8bx9.

Poor vision has plagued Green all his life, starting with emotional scars from being teased for wearing "Coke bottle" glasses as a child, which he stopped doing, and subsequently began failing seventh grade.

But two weeks ago, the 28-year-old Trident Technical College student and a dozen other people became the first in the United States to have Lasik surgery using the Alcon Refractive Suite at the Magill Vision Center at MUSC's Storm Eye Institute.

Green said his life is renewed. His first order of business is getting a driver's license, finishing his school work and becoming more physically active.

Fast and precise
The suite features two lasers, the Wavelight FS200 Femtosecond Laser and the Wavelight EX500 Excimer Laser, that offer the fastest — mere seconds — bladeless vision correction in the United States. The first laser cuts a flap, and the second corrects the "refractive error," or the issue requiring contact lenses or glasses.

The technology allows doctors to tailor treatments for patients' individual needs — nearsightedness, farsightedness, astigmatism or age-related pre-presbyopia — using a fully customizable laser machine.

Besides speed, the precision of the machine is touted for producing better outcomes, minimizing recovery time, and being the safest machine of its kind.

"This is the most advanced laser available in the United States, mostly due to its speed and customization," said George Waring IV, M.D., medical director at Magill and director of refractive surgery at Storm Eye.

Putting the technology in perspective, Waring describes the refractive suite as a "quantum leap" from the earliest days of laser eye surgery in the 1990s and a "major breakthrough" since 2000.

Waring said patients usually see better immediately following the surgery, and the majority have "super vision," or better than 20/20 vision, within 24 hours. He added that people ages 18 to 65 are eligible for the surgery.

The cost comes in at about $2,500 per eye, which Waring said is "a little more expensive" than other Lasik surgery. Insurance does not cover the surgery, though some health savings plans allow it to be covered.

"We're excited to offer this," Waring said. "It's a great thing for MUSC to offer this world-class technology."

The dentist
Like Green, 31-year-old dentist Walter Renne, DDS has been troubled by poor vision all his life. Without thick glasses or contacts, he couldn't see clearly 3 feet beyond his face.

All the things I loved doing in life — like camping or surfing — I was handicapped," Renne said. "If I lost or broke my glasses or my contacts came out, I would literally be blind."

He was reluctant, however, to do laser surgery until now because he depended on "super-crisp vision" for his career. Renne, who teaches technology at the MUSC dental school, gained more confidence with the new lasers.

While he could see better immediately after the surgery, his vision improved immensely three days following the surgery.
"And it keeps getting better," Renne said. "It's amazing that the surgery took place faster than it took me to put a contact lens in my eye."

Editor's note: This article ran in the Dec. 3 issue of The Post and Courier and is reprinted with permission.
Friday, Dec. 14, 2012