by Cindy Abole
Pubilc Relations
Providing exceptional leadership that supports diversity and inspires and empowers women to make a meaningful impact with their careers and role in the community is a priority for Etta D. Pisano, M.D. On Dec. 17, Pisano, who is vice president for medical affairs and dean of the College of Medicine, was named the inaugural winner of the MUSC Women Scholars Initiative's (WSI) Advancement of Women Faculty Award. Pisano accepted the award in the presence of her family, fellow faculty members, colleagues and friends.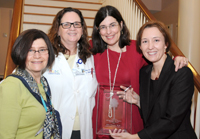 Dr. Etta Pisano, second from right, receives the inanugural WSI award from Drs. Leonie Gordon, from left, Rita Ryan and Ashli Sheidow.

"I want to thank everyone for this honor. It's quite remarkable to see the changes that have taken place over the past 50 years — there are many women who are successfully balancing careers and family, but we still have a long way to go," Pisano said. "We are fortunate to be at MUSC where there is an institutional committment to diversity, and to diversity of leadership. I'm here today because of Ray Greenberg and his vision for what MUSC can be and should be. I share Ray's belief that a diverse institution with diverse leadership makes better decisions and can be a stronger force in the world."

Ashli Sheidow, Ph.D., WSI vice chair, praised Pisano for her hard work and important contributions to the university and women's leadership development since her arrival in July 2010 as MUSC's first female dean of the medical school.
According to Sheidow, Pisano's nomination rose above other nominees and focused on her dedication to foster women leaders.

Rita M. Ryan, M.D., chair of the Department of Pediatrics, praised Pisano in a nomination letter focusing on multiple achievements including tripling the number of academic department chairs in the College of Medicine who are women; appointing a woman as senior associate dean for medical education; instituting a faculty spousal recruitment policy; and expanding mentorship and professional development opportunities for faculty.

"There is a culture change happening at MUSC, and I think Dr. Pisano has been the catalyst for this change. She's not only focused on women but supports increased diversity in general," said Ryan.

Another speaker was Department of Radiology professor Leonie Gordon, M.D., who said Pisano is an advocate for affirming women's contributions and accomplishments, and a leader set on improving the educational and professional environment for women.

"Dr. Pisano recognizes that progress has been made nationally to empower women in medicine. She is already a very positive role model for all women at MUSC and has willingly shared her vision and experiences with us," said Gordon. "She inspires all women colleagues and is leading the College of Medicine with a lasting impact and creating a solid framework for all women."

The selection process hosted many nominations and resulted in an extensive review led by committee chair Mary Mauldin, Ed.D., vice chair Darlene Shaw, Ph.D., and an eight-person selection committee.

In addition to this award, Pisano was recognized in 2012 with the Gold Medal from the American Roentgen Ray Society and the Alice Ettinger Distinguished Achievement Award by the American Association for Women Radiologists.
Friday, Dec. 21, 2012