by Gerry Le
Public Relations
North Charleston's 4480 Leeds Place West is now home to MUSC's Children's Rehabilitation Service Center, Sleep Center and Wheelchair Seating and Mobility Clinic. The facility, which was created to be a one-stop shop for families to receive therapeutic services, opened Oct. 17.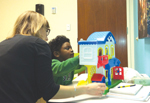 Speech language pathologist Jenny Tate works with Jaden Wright to improve his communication skills while he plays with a toy house at the Children's Rehabilitation Service Center in North Charleston.

Rehabilitation Service Center
MUSC's Children's Rehabilitation Service Center offers a variety of services for pediatric patients and their families in the North Charleston area.

This new facility offers occupational and physical therapy, and speech and language pathology, giving patients the ability to improve motor skills, balance, communication, and feeding and sensory processing skills. The clinic uses an interdisciplinary approach that develops lifelong learning skills for pediatric patients.

The collaborative care that patients will receive from this location comes from a staff of five physical therapists, five occupational therapists and six speech-language pathologists. These therapists have had advanced and specialized training in pediatric disorders.

"The therapists are exemplary as they demonstrate great compassion and dedication to improving their patients' abilities to interact with their environment," said Diane Andrews, the center's manager. "I am truly inspired when I see children learning to walk, eat meals, communicate and use their new motor skills to play with toys for the very first time."

Sleep Center
MUSC's North Charleston location Sleep Center provides patients the same quality care as the original location at the downtown campus. The 12 sleep-study technologists are trained in specialized care for treatment of adult and pediatric sleep disorders, such as sleep-disordered breathing and sleep apnea. The center diagnoses patients through sleep studies that monitor EEG, heart rate, breathing, oxygen levels and leg movement.

"The new location removes the pressures of being in a hospital setting and allows us to care for our patients in a comfortable and relaxed environment," said Amanda McGarrigle, Sleep Center manager. "I'm excited to bring our services into the community, and our patients couldn't be happier."

Wheelchair, Mobility Clinic
The Wheelchair Seating and Mobility Clinic serves both adult and pediatric patients. The team consists of assistive technology providers who offer patients custom wheelchairs.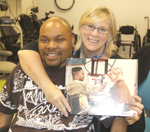 Ervin Clark began seeing physical therapist Jill Monger in 1991 for regular wheelchair tune-ups.

North Charleston patient Ervin Clark has been coming to the clinic since 1991. He started seeing physical therapist Jill Monger for treatment and later received regular support with wheelchair tune-ups or technology evaluations about every five years. As a teen, Clark was injured doing back flips on home mattresses. The accident left him a quadriplegic.

Today, Monger and colleague Sarah Kraft, DPT, are part of a team of specialists who provides care to children and adults, especially elderly patients who are diagnosed with spinal cord injuries or mobility impairments including cerebral palsy, multiple sclerosis and amyotrophic lateral sclerosis or Lou Gehrig's disease.

"The new facility was large enough that we were able to incorporate our wheelchair clinic and sleep lab into the plans," said Sally Potts, R.N., director of therapeutic and professional services. "Vendors and specialized physical therapists work with patients to ensure wheelchairs are custom fit to our patients."

The Wheelchair Seating Clinic allows patients to regain independence. The new ability to navigate and explore an environment directly impacts a patient's life, allowing for mobility and independence that wasn't attainable before. The Wheelchair Clinic is operated on an outpatient basis.

All three clinics are open from 8 a.m. until 6 p.m., Monday through Friday. For more information, call 876-7200.
Friday, Dec. 21, 2012