by Ashley Barker
Pubilc Relations
Shaina Eckhouse, M.D., won MUSC's second American Heart Association Vivien Thomas Young Investigator Award for her work in developing the first-ever reproducible large-animal model of thoracic aortic aneurysms, which mimics what doctors see in human patients. Her research may lead to further understanding of how aneurysms develop and how they can be treated.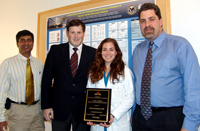 General surgery resident Dr. Shaina Eckhouse won the Vivien Thomas Young Investigator Award by developing a reproducible, large-animal model of a thoracic aortic aneurysm. From left are: Drs. Rupak Mukherjee, research associate professor in the Department of Surgery; John S. Ikonomidis, the Horace G. Smithy Professor of Cardiothoracic Surgery; Eckhouse; and Jeffrey A. Jones, research assistant professor in the Department of Surgery.

People with thoracic aortic aneurysms are usually unaware of their condition, and their aneurysms remain undetected unless caught by happenstance. Patients will go to a clinic or emergency department for some other diagnosis, and upon having a chest X-ray, they discover an aneurysm is present. Many patients who have aneurysms show up on death's door as a result of their aorta rupturing, according to Rupak Mukherjee, Ph.D., research associate professor in the Cardiothoracic Surgery Division's research program in the Department of Surgery.

"The problem with this disease process is that detection is difficult, if it's even detected at all," Mukherjee said. "Our research goals include the development of methods to detect and threat thoracic aortic aneurysms, so having a reproducible large-animal model is useful."

Treatment of aneurysms based on the model, however, is in the very early stages. In her research, Eckhouse confirmed that the porcine model reproduced many of the features of the human form of the disease. The next step, which is where Eckhouse and her team are at now, is to see how the biochemistry will change when the animal is treated with a drug or device placed inside the aorta. Once a particular concept is successfully demonstrated in the large-animal model, it can then be taken to a clinical trial to see if the same treatment would be useful for human patients.

"We now have a test-bed that we can start looking at interventions with," said Jeffrey Jones, Ph.D., research assistant professor in the Department of Surgery.

In 2003, John S. Ikonomidis, M.D., Ph.D., the chief of cardiothoracic surgery at MUSC, developed a mouse thoracic aortic aneurysm model. While the mouse model is an excellent resource to study the role of particular proteins and enzymes in aneurysm development, the differences in size between a mouse and a human make the testing of drugs or devices impractical.

To address these and other issues, the cardiothoracic surgery research team developed the large-animal thoracic aneurysm model. The porcine model has additional advantages, such as the ability to do serial blood testing.

"It's easier to test devices and different interventions that would be more applicable to humans in a large animal than it would be in a mouse," Jones said. "With this large-animal model, we can start translating some of the mechanisms that we've learned in the mouse back into something that is more applicable to humans and eventually take it to the clinic."
In addition to creating the first reproducible, large-animal thoracic aortic aneurysm model, Eckhouse and the research team also developed a process to routinely track the progression of thoracic aortic aneurysms in these pigs.

"As of now, we're the only lab on campus that can perform MRI studies in large animals," Mukherjee said.
Eckhouse credits her research and Vivien Thomas award to the help she received from her mentors in the lab. "I wouldn't have been able to do this without the help of Drs. Jones, Ikonomidis and Mukherjee," she said. "If they hadn't been interested in this for my research, this award would have never happened."

Ikonomidis, who also is the chair of the Cardiovascular Surgery and Anesthesia (CVSA) Council, attended the American Heart Association Scientific Sessions in Los Angeles and was master of ceremonies at the CVSA Council Dinner, where it was announced that Eckhouse had received the award. "Obviously, having someone from our laboratory win this award during my tenure as CVSA Council Chair was very personally satisfying," he said. "This award will be important for the future career of Dr. Eckhouse, who is extremely deserving of it. In addition, it provides validation of our laboratory as one of the premier cardiothoracic research labs in the country."

Eckhouse, who beat finalists from the University of Toronto, the Warren Alpert Medical School of Brown University and the University of Colorado, received her award on Nov. 6.

Eckhouse attended Trinity University as an undergraduate and completed medical school at the University of Texas Health Science Center, San Antonio. She started in the general surgery residency program at MUSC in 2008, and chose to spend two years doing a research rotation in the Cardiothoracic Surgery Research Laboratory.

"As a surgery resident who is interested in an academic surgical career, the award helps set me apart from other vascular surgery fellowship applicants and other potential applicants in my future career," said Eckhouse.

She is not the first resident to receive the Vivien Thomas award while at MUSC. Jean Marie Ruddy, M.D., won the award in 2008 while working on aortic samples in the same lab as Eckhouse.

Ruddy is currently pursuing fellowship training in vascular surgery at Emory University and is expected to return to MUSC as a junior faculty member in the Division of Vascular Surgery.

"Successful submission to a national research competition such as the Vivien Thomas Award is not an individual accomplishment. Competing at this level requires academic excellence in not only scientific principles but also data extraction, organization, and manuscript composition," Ruddy said. "For years the cardiothoracic research laboratory team at MUSC has provided the support and mentorship that motivated trainees, such as Shaina, have utilized to propel themselves into bright and successful careers, and I feel this most recent accolade is an appropriate time to recognize their work as well."

Receiving the Vivien Thomas twice in the award's young 16-year history speaks to the institution's reputation, according to Jones. "The quality of research is dictated by the institution that you work at and the support they give you. MUSC has had a long standing history of good, excellent cardiovascular research," he said.

Eckhouse said that someone approached her right after the awards ceremony and commented that it was fitting for her research to receive the Vivien Thomas award because of Thomas' own work with animal models. Thomas, an African-American surgical assistant, pioneered a procedure that was used to treat blue baby syndrome by simulating the condition in a canine model at Johns Hopkins University in the 1940s.

"I feel honored. I've had good mentorship and been able to be a part of meaningful research," Eckhouse said. "With this award, it solidifies and validates how much quality research comes out of this lab."
Friday, Dec. 21, 2012