by Ashley Barker
Public Relations
After 40 years in the same building, the MUSC Department of Family Medicine has finally received the upgraded facility that it desperately needed.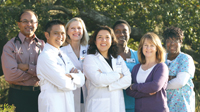 The Department of Family Medicine moved from Calhoun Street to 650 Ellis Oaks Drive on James Island. Pictured from left are: Dr. Kesh Hebbar, clinical associate professor; Dr. Alex O. DeCastro, assistant professor; registered nurse Jacqueline M. Whelan; Dr. Vanessa Diaz, clinical services director; Queen E. Haynes; nurse practitioner Katherine Tabor; and Stella Seels. For information on the Department of Family Medicine, call 792-3451.

Approximately 20 clinical employees moved from the 95 Calhoun St. location to an 8,000-square foot practice located at 650 Ellis Oaks Drive on James Island. The remaining 13 faculty, five staff and three grant employees in the department are now located at 5 Charleston Center Drive.

It was necessary to locate new facilities because of the decaying health of the building on Calhoun Street. The facility was built as a nursing home in 1963, according to Carolyn Thiedke, M.D., and the university purchased it in 1972 for Family Medicine.

"This has always been a thriving, bustling facility for the whole range of family medicine — from newborns to adults over 100 years old. We do acute care — like sprains, chest pain and abdominal pain — chronic care — such as diabetes and hypertension — inpatient care, outpatient care, obstetrics, and preventative care," Thiedke said.

As the patients aged, so did the building. The roof was a constant problem and the boiler was eventually condemned by the state of South Carolina.

"The university leadership determined it was not worth the investment to keep that building up and operational," said Scott Laird, administrator and instructor for the Department of Family Medicine. "The university, from a clinical perspective, had decided that primary care, of which family medicine is part of, should not be on the main campus but in the communities."

An initial concern of the move was the reaction of the 28,000 patients that the practice took care of last year at the Calhoun Street facility. Leaders of the department are confident, though, that they'll regain any losses and eventually exceed the number of patient visits.

"Certainly we are going to have some patients who can't follow us, but it's amazing to me the number who have," said Barry Hainer, M.D., the department's interim chair. "My schedule is filled with patients who largely have seen me before and have made the effort to find our new location. It's really just a five-minute drive from where we have been in the past."

Adjusting to the new facility has had its difficult moments, but the clinic's new neighbors on James Island have made the practice feel welcome. With about 50 less parking spots than on Calhoun Street, patient and staff parking was an initial struggle. But Harris Teeter, Wells Fargo Bank, Lowes and Ruby Tuesday, businesses that are all in the same general area, agreed to allow family medicine staff members to park in their lots with proper identification hanging from their vehicle mirrors.

"The business community right over in our area has been very supportive and has stepped forth to give us parking," Laird said. "They've been very receptive, which has been positive."

Having to deal with some employees on James Island and some at Charleston Center was another initial change.

"We've dealt with separation before, but our flagship site was 295 Calhoun because it was large enough to keep clinical activities, administrative staff and research activities all under one roof," Hainer said. "That is the area where we all feel some loss or change because we don't have everyone together."

In order to help communication between the sites, the department is expanding its use of video conferencing and is ordering new equipment to link faculty and staff at East Cooper Family Medicine, Flowertown Family Medicine in Summerville, Trident Family Health in North Charleston, the Family Medicine Center on James Island and the academic department at Charleston Center on the main campus.

"This was the spiritual home. This was the home where it originated. This is where it carved itself out of a specialty center to become family medicine, and this was the first practice, which has been with the department since day one," Laird said. "It was a collaborative team because we had pharmacy in the building. We had our research faculty in the building. We had our departmental staff in the building. The people that were away always felt like this was home. It was a hub in which we kept that connectivity, and that is what has been lost in our new locations."

Patient care will still remain the No. 1 priority for the department. With the new office, the staff hopes to improve efficiency and effectiveness.

"We will be able to provide services that we've been providing to the downtown community to a different community and expand our patient base and presence in a different part of Charleston," said Peter Carek, M.D., professor and vice chair for the Department of Family Medicine. "It's a step in the overall process of further integrating family medicine and primary care into the overall mission of the university. We're excited about the future."

If patients are concerned about the new location, he said he tells them the facility is in a different building, but it's the same staff, same nurses, same physicians and same great care, just five minutes away.
Friday, Dec. 7, 2012