By Hollen Dodds
Public Relations
In what is the most anticipated social event of the academic year, the Charity Ball marks its 25th anniversary, with plans to break prior fundraising efforts.

The Charity Ball gives students, alumni, faculty and staff the opportunity to support local charities while interacting outside of the classroom. Shivam Desai, a second-year College of Medicine (COM) student, decided to join the committee as soon as he came to MUSC. "I wanted to get involved in working for a good cause while becoming familiar with the community. I have definitely learned a lot about Charleston through this experience," he said.

The ball is co-sponsored by members of the COM Student Council and the Medical Student Alumni Council (MSAC). The alumni council seeks donations for the silent auction while the student council promotes the event to the public and advertisers.

The committee members work months in advance with the help of Charity Ball director, Krista Mysock, to prepare for the event. Mysock said the ball raised more than $19,000 last year, with this year's goal to raise even more money. More than 400 MUSC students, physicians, faculty and staff along with several members of the Charleston community attended last year.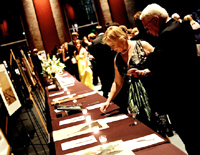 Attendees bid on silent auction items during the 2011 Charity Ball.

Dean emeritus and professor Layton McCurdy, M.D., has been attending the ball since 1990. He has made several contributions to the ball throughout the years ranging from donating artwork to auctioning off his bartending services for a night. "This event is just too good to miss," McCurdy said.

The Charity Ball committee members work with MUSC Gives Back to review and select the charities from a large pool of non-profit organization applicants. Some organizations have been recipients for many years while others are newcomers.

One charity, Crisis Ministries, has been a longtime recipient of ball funds since the event's first year. Amy Zeigler, Crisis Ministries director of community outreach, said the organization is grateful for the continued support. "The funding helps us to finance our full-time health clinic and provide medication to those without financial assistance programs such as Medicaid."

This year's ball will be held at Memminger Auditorium Feb. 18. Hamby Catering and Events will provide the décor and heavy hor d'oeuvres for the evening. Guests will be entertained by live music from the band Permanent Vacation and given the chance to bid on artwork, jewelry and getaways.

2012 Charity Ball Recipients
Crisis Ministries; The Community Center at St. Matthews Lutheran Church; Helping and Lending Outreach Support; Lutheran Hospice Lowcountry; Sea Island Habitat for Humanity; MUSC Student Initiatives: Community Aid, Relief, Education, and Support Clinic; Crisis Ministries Wednesday Night Clinic and Fight for Sight.
COM Student Council: Kristie Day, Michael Fitzgerald, Kevin Gibbs, Stephanie Robinson, Stephen Ramey, Shivam Desai, Simone Maybin, Maggie Stafford and Taylor Stukes. Medical Student Alumni Council : Satara Brown, Crystal Fancher and Ryan Wade

Tickets and donations may be made at http://www.musc.edu/charityball.