By Cindy Abole
Public Relations
For years, Wofford College students who showed an interest in dentistry have taken advantage of a pre-dental advising and dental interim program established by the school. Results of this partnership have prepared some of the state's dental professionals while improving the oral health of many South Carolinians.

In January, Wofford students Lindsay Warren, Emmanuel Lakis, Becca Bryson, Brantlee Tinsley, Greg Valainis and Andrew Hansen signed up with Charles Bass' Independent Projects in the Sciences class. Bass, Ph.D., is the Dr. and Mrs. Larry Hearn McCalla Professor in Wofford's Department of Chemistry, and has led this effort for more than 15 years. As part of the curriculum, students spent three days visiting MUSC's dental school meeting with faculty, staff and students.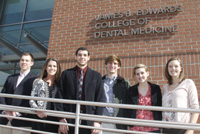 Wofford students visit the College of Dental Medicine Jan. 12.

Bryson, a junior from Kingston, Tenn., is a third-year biology major and business minor. Bryson found the experience helpful.

"Being a participant in this program has helped me realize the hard work and commitment that's involved in achieving a quality dental education. I'm glad to have been part of this experience."

Bennettsville native Lakis is a third-year chemistry major. He initially felt that medicine was his life's calling. But after spending time shadowing a physician as part of an internship, Lakis was unsure about the long work hours and challenges. He signed up for Bass' dental project class and was impressed with what he saw. Mostly, Lakis was drawn to the technical and clinical aspects of dentistry as featured in the Aisic and Riva Hirsch Dental Simulation Lab and the James B. Edwards Dental Clinical Education Center.

The experience allowed the students to meet with dental faculty and enrollment and financial aid personnel to review requirements necessary to apply to dental school. They also attended scheduled dental classes for each dental year to sample the curriculum and met with current dental students, especially Wofford alumni.

Tariq Javed, DMD, associate dean for academic and student affairs in the dental school, is a proponent of the partnership. "We commend the leadership and commitment of Dr. Bass and the school's successful pre-dental program throughout these many years."

Matthew Nimmich, a third-year dental student and 2009 Wofford College alumnus, met with the visiting students. These students shared their experiences including addressing questions about the dental school applications process housing, debt and student life.

"I thought that Wofford's dental interim program was very helpful to me as an undergrad student. The program allows college students a chance to get a month's worth of shadowing with dentists in the upstate area as well as a weeklong experience to observe daily life at dental school."