On Jan. 18, MUSC medical center kicked off its journey to achieve Magnet designation.

Magnet status recognizes health care organizations for quality patient care, nursing excellence and innovations in professional nursing practice. According to Andrea Coyle, R.N., professional excellence coordinator and MUSC Nurse Alliance chair, becoming Magnet-designated is a prestigious award that requires dedication and commitment to excellence by everyone in the organization. "At MUSC, quality patient outcomes, nursing satisfaction and nursing excellence is paramount and is supported by the MUSC Health Strategic Plan."

The following are nurses' responses to what the Magnet journey means to them.
Kelly Hannon, R.N., 8East, (1-1/2 years nursing experience)


"Since graduating from nursing school (University of South Carolina) in May 2010, I have worked as a nurse at MUSC. To me, working at a hospital of magnet status means that I am working at a hospital that delivers excellence in nursing care. It means that nurses practice with autonomy in delivering care and are important members of a wonderful health care team. Magnet status also is about taking pride in your facility and knowing that people want to be cared for at your hospital. I believe MUSC is all of this."

Claudia Jo Mack, R.N., Pediatrics Emergency Department, (29 years)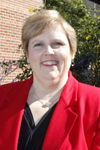 "Magnet status to me means recognition of the wonderful care we give at MUSC. I feel we are already worthy of Magnet, we just need to get the word out to the community and the American Nursing Association. We have many great systems currently in place and need to tweak a few things to get them up to par. I am honored to have been selected as a Magnet Champion for the Pediatric Emergency Department and as a member of the transformational leadership team. I am excited to be a part of the Magnet journey. I have learned so much about all of the great things MUSC does and look forward to helping to share these things with the MUSC family as we move forward in our goal."

Christine Greco, R.N., clinic manager, Adult Endocrinology Clinic, Rutledge Tower, (42 years)


"Magnet status communicates a level of professionalism aspired to by all organizations. This professionalism is demonstrated by a high level of commitment to our patients, and to each other. In practice, our patients can say that they have received the best care possible in a knowledgeable and caring way. The patients say how much the nurse cared, how gentle they were, how they listened and kept the patient their only focus while with them. It is the difference between performing tasks and being proud and content in the service we provide. I believe as we continue to grow professionally, we'll see increasing numbers of pride and satisfaction examples among our caregivers."