On Feb. 8, Coastal Franchising, an established owner of Dunkin' Donuts, presented a check for $11,000 to MUSC Children's Hospital for its Child Life program. The program is the only one of its kind in the Lowcountry offering diverse services designed to meet the psychosocial needs of infants, children, adolescents and their families.

The program supports nearly 10,000 visits of patients and siblings to its atrium annually and offers services such as preparing children for procedures.

"Hospital and medical experiences can be upsetting for children and may interfere with normal childhood activities," said Sandra Oberman, Child Life Department manager. "Through the use of play, education, and support, Child Life specialists work to minimize stress and to help children, adolescents and their families cope with health care encounters. This wonderful donation will help us reach our goals of providing the best in psychosocial support for pediatric patients."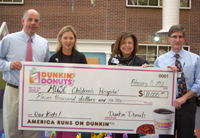 Presenting the check to Sandra Oberman, second from right, Betsy McMillan, a Child Life specialist, and Dr. David Habib, right, Department of Pediatrics, is George Ross.

The funds were collected by Dunkin' Donuts franchises throughout the region as part of a "Cups for Kids" charity effort. Coastal Franchising had been awarded a grant from the Dunkin' Donuts and Baskin-Robbins Community Foundation and its locations raised matching funds to add to the grant. In a promotion that ended Dec. 17, the stores sold cut-out paper cups for a $1. Donors wrote their names or message on the cup, which was placed on a wall or window in the store. Additionally, the stores donated $1 when customers purchased a dozen donuts or 50-count of Munchkin donut hole treats.

"We are so fortunate to have this opportunity to present these funds for such a worthwhile cause," said George Ross, CEO of Coastal Franchising.

"The 'Cups for Kids' campaign had such a marvelous effect bringing our employees and customers together for a common good, and we're sure we will pursue additional opportunities to benefit the Charleston community in the future."

According to Barbara Rivers, director of development, MUSC Children's Hospital Fund, an integral part of the Children's Hospital is dedicated to enhancing the health of children throughout South Carolina and to providing an environment that supports excellence in pediatric patient care, teaching and research.

"No child, rich or poor, is denied the finest care available," said Rivers. "Many are facing serious, chronic, congenital or life-threatening conditions, yet, thanks to MUSC Children's Hospital, they are able to hope for a brighter tomorrow. All of this is made possible through the generosity of donors in the community such as Dunkin' Donuts and their customers, who give unselfishly, knowing their families may never need our help. We are most grateful for this campaign and the funds it has generated as we work to provide the very best for those we treat."

Staff in the Child Life department encourage therapeutic play to elicit children's concerns and develop coping strategies, family support, special events and support groups. Child Life provides a lending library of toys, games and DVDs to children and families to make them feel calmer and have a better overall experience during their stay at MUSC. The funds will go toward replenishing the supply and adding new products for different age levels.

Working in partnership with franchisees across the country, the Dunkin' Donuts and Baskin-Robbins Community Foundation serves the basic needs of communities through food for the hungry, safety and children's health. The foundation partners with national nonprofit organizations and works with franchisees to support regional and local community organizations. Since 2006, the foundation has donated more than $2 million.