by Dawn Brazell
Public Relations
Though many people were shocked by the prominent child sex abuse scandals that hit the news last fall, psychiatrist R. Gregg Dwyer wasn't one of them.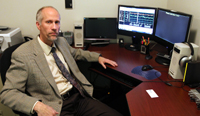 Dr. R. Gregg Dwyer heads up MUSC's Forensic Psychiatry Program and the Sexual Behaviors Clinic and Lab, which opened April 2011. To see the video, visit http://tinyurl.com/7eb9bcs.

The director of MUSC's Forensic Psychiatry Program and the Sexual Behaviors Clinic and Lab knows well the prevalence rate and the need for research so that sexual abuse behaviors can be better understood and prevented.
The clinic, located in West Ashley, is one of a few on the East coast with the capacity to conduct in a single location clinical, psychological, and physiological assessments of sexual behaviors for use by the criminal justice system and treatment professionals.

"We work where there's the intersection of psychiatry and the legal system. That could be the criminal legal system or the civil legal system," said Dwyer, M.D., Ed.D., explaining the program's roles in consulting, education and research.

Thomas Uhde, M.D., chairman of the Department of Psychiatry and Behavioral Sciences, said that the department is one of the few centers in the country that both treats victims of abuse and is developing more effective ways to prevent future abuse by sexual predators.

"Limitations in funding for the study of human sexual behavior hinders the development and implementation of more effective predator prevention programs. Perhaps the tragic news highlighted in the media will promote research in this area and lead to more effective efforts to address this major public health problem."

In addition to research, the MUSC Forensic Psychiatry Program is the site of the Sexual Behaviors Clinic, which is one of two in the state with a research certification. Program personnel serve as consultants to several state agencies and the federal government on the topic of sexual offending and to educators, providing presentations to legal and health care professionals.

Dwyer, who was recruited by Udhe in 2010 from the University of South Carolina's Department of Neuropsychiatry and Behavioral Sciences, has the legal and medical background he needs to navigate how the fields intersect. Dwyer received his doctor of education from Virginia Tech and doctor of medicine from the University of Arkansas for Medical Sciences. After serving in the Navy, Dwyer was commissioned a civilian special agent with the U.S. Naval Criminal Investigative Service (NCIS), serving in field, headquarters, operational and staff positions and critical incident peer counseling.

Dwyer, an associate professor in MUSC's Department of Psychiatry and Behavioral Sciences, is board certified in general, child and adolescent and forensic psychiatry and is a certified sex therapist with the American Association of Sexuality Educators, Counselors and Therapists.

The forensics program will augment victim services already provided at MUSC. The Department of Psychiatry and Behavioral Sciences National Crime Victims Research and Treatment Center, directed by Dean Kilpatrick, Ph.D., has a long history of research and clinical service to victims. MUSC's Sexual Assault Nurse Examiners (SANE) program targets helping sexual assault victims get the medical and legal assistance they need.

Dwyer said the Forensic Psychiatry Program further establishes MUSC's expertise in forensic health care and it will be influential in spearheading research in an area too few academic centers are targeting.

"We need a lot more research on sexual abuse cases. It's difficult to get it funded, and it's difficult to conduct it because the people you're trying to study, in many cases, are in the custody of a government agency that creates issues in getting access for research."

Funding can be a challenge given the stigma and confusion about offenders' behaviors.

"Typically that person doesn't want to engage in that behavior. If it's the result of an illness, they certainly didn't decide they wanted to have that illness any more than someone wakes up in the morning and says they want to have insulin-dependent diabetes or heart disease or cancer or bipolar disorder. Nobody wants those and would like to get rid of them if they could."

Two federal research grants he currently is working on are "Protecting Children Online: Using Research-Based Algorithms to Prioritize Law Enforcement Internet Investigations," and "Internet Crimes Against Children: Development of a Typology of Offenders for Use in Prevention, Investigations and Treatment."

Dwyer said the widespread use of the internet, especially given children's access and comfort with mobile technology, opens up vast new areas of research in terms of sexually abusive behaviors and the internet's impact on interpersonal relationships. The goal is to provide an educational component for schools and parents about how to be safer in that electronic environment, inform law enforcement about how best to catch sexual predators who are using the internet and therapists about the best treatment for them.

Dwyer recommends that parents and educators address the issue openly with children. There is useful information and resources provided by the National Center for Missing & Exploited Children on helping children avoid internet sexual predators. It is information he plans to update and revise as MUSC research sheds more light on the different types of predators and why and how they operate the way they do, he said.

"Part of safety of children in any environment is being aware of what a child is doing in any setting and for a child to be comfortable reporting to that person when something happens or that is uncomfortable or upsetting," he said.
"One of the ways that someone who abuses children is able to do that is by keeping it a secret and by keeping someone who may be able to do something about it out of the picture – isolating a child in some form or fashion. The more connected the child is with a caregiver in their life — that reduces the chance that this will happen in their life."

The other critical component is for researchers and therapists to understand the people who engage in abusive acts to know how to stop the behavior to prevent the victimization of others.

"When we're treating one person, we're potentially treating a whole bunch of others. An infectious disease physician who treats one person has potentially prevented tens, hundreds, maybe thousands of people from contracting whatever that illness might be."
The Statistics
Adult retrospective show that 1 in 4 women and 1 in 6 men were sexually abused before the age of 18 (Centers for Disease Control and Prevention, 2006). This means there are more than 42 million adult survivors of child sexual abuse in the U.S.
Source: Darkness to Light

Forensic Psychiatry Practice Areas
--Criminal and civil forensic evaluations
--Child and adolescent
--Child custody and adoption evaluations
--Parental fitness
--Guardianship and conservatorship
--Sexual behavior evaluations
--Sexual behaviors clinic and lab
--Correctional psychiatry
--Probate and mental health courts
--Public safety agency consultations
--Fellowship Training
--Medical/law student & resident teaching
--Research
--Fitness for Duty Evaluations
--Psychological autopsies
--Death penalty casework
--Traumatic brain injury
--Disability claim evaluations
--Risk assessment
Contact Info: forensicpsychiatry@musc.edu or 843-792-1461