By Lt. Tim Bussey
Public Safety
Bicycle theft continues to be a problem around campus for students and staff.

Bicycles are highly sought after by thieves and are also readily available around campus.

It is important to be security minded at all times to decrease your chances of becoming a victim of crime. You can help protect your property by following a few simple steps: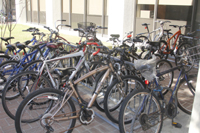 According to City of Charleston Ordinances, the owner and operator of every bicycle intended for use in a public place must be registered with the police department. The registration will include the make, model, number and other given description on a form distributed by the police. This form is valid for a period of three years from the date of registration.

Additionally, a decal license tag containing a number and other appropriate identification information shall be provided to the bicycle registrant. This tag needs to be attached and visible on the bicycle for which it was issued.

Public Safety provides the city's bicycle registration process as a service to students, faculty and staff. The city police department collects the fees for registration and the license tags. The cost for registering your bicycle is $1.

If you notice that the bicycle racks on campus are full on a regular basis, email busseyt@musc.edu or call 792-1070 and Public Safety will attempt to provide additional racks in the area.

Always report suspicious individuals, whether they are in buildings or around the bicycle racks to help make the MUSC campus a safe and secure environment. Call 792-4196 and provide the dispatcher as much information as possible.