The new MUSC Wellness Center lobby sports an updated décor and single point of entry now that renovations are completed.

The new entrance, main lobby and expanded nursery opened Jan. 16. The changes featured new flooring, wall coverings, lighting, expanded program space, new equipment and a redesigned membership desk.

The project used secured funding that supported needed facility upgrades and equipment purchases throughout the year, according to Bobby Shaw, Wellness Center director.

"These projects not only improve the visual appearance of the center, but also enhance its functional ability to support members and staff. The new equipment gives our members more exercise options and helps alleviate overcrowding during peak times of the day."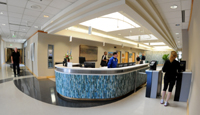 Members use the dual turnstiles and biometric hand readers to access the lobby and main entry of MUSC's Wellness Center. For information, visit http://www.musc.edu/hsc.

Since 2011, Wellness Center management approved the placement of new hardwood flooring in the main group exercise studio; resurfaced the pool deck, basketball court and roof top track; and added an array of elliptical cross trainers, adaptive motion trainers, Stairmasters, treadmills, bikes and other equipment.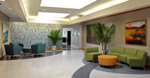 The lobby renovation, new membership desk and nursery update project was completed by both private contractors, and MUSC Physical Plant and Carpenter Shop employees. Right photo: Wellness Center's Gil Bradham advises a potential member about the facility's numerous amenities and membership packages. Employees, who are not members, may join the Wellness Center at a discounted rate until March 1. For membership information, call 792-5757.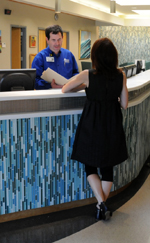 According to Shaw, the center's next facility improvement plan includes the renovation of the upstairs locker rooms and shower areas.

"The Wellness Center will continue to improve our facilities whenever funding is available. It is our goal to strive to be the best fitness facility in the Lowcountry."