Bob Warren, M.D., Ph.D., serves as chief medical information officer (CMIO) and a professor of pediatric rheumatology for MUSC. Warren is a leader in the planning and implementation of Epic, the new Electronic Medical Record (EMR) system at MUSC. He has experience with the Epic product stemming from his position as CMIO at Texas Children's Hospital in Houston.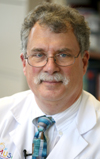 Dr. Bob Warren. To view the video with Bob Warren, M.D., Ph.D., visit http://tinyurl.com/6lu5z3v.

Epic launches at MUSC in five pilot clinics March 22 and the institution's remaining clinics go live May 17.

The Catalyst recently sat down with Warren and he shared some of the system's benefits and ways the new EMR will help facilitate MUSC's mission of Changing What's Possible in health care.
What is Epic?
It is a user-friendly health information system, chosen by MUSC for implementation in the clinics in December 2010; we've been getting ready for go-live ever since. The ambulatory EMR system will improve, transform and advance the way MUSC delivers patient care. Epic provides an easy, streamlined system integrating the clinical coordination of inpatient and outpatient information, communications, billing, pharmacy services and other functions, ensuring the delivery of the highest quality and safest patient care. It also provides an online, patient-accessed portal called MyChart, which empowers patients and makes it easy for them to be active participants in their own health care and those for whom they are entrusted to care.
Who will use the new system?
More than 4,000 MUSC clinicians including nurses, physicians, business managers, administrative staff, schedulers and documentation staff will receive training and support enabling them to be proficient users.

Epic is widely regarded as the industry-leading EMR now in use or being implemented at more than 260 nationally-known academic medical centers and health care systems. Those include Duke University Medical Center, Wake Forest University Baptist Medical Center, the Cleveland Clinic, Johns Hopkins Hospital, University of Chicago hospitals and the Kaiser Permanente system. It is the premier electronic medical record system on the market today among academic medical centers.
What are some of its features?
The new EMR benefits both caregivers and patients. Within clinics, it will simplify how we gather, share and manage patient care and billing information; it will streamline our communication with our MUSC colleagues, and also community providers. It will greatly improve and speed our management of prescriptions.

For patients, one of the most exciting features of the EMR is a patient-accessible secure Internet portal called MyChart, which allows patients and those who care for them, to gain access to and review medical records, communicate online with caregivers, schedule and view appointments and even order medication refills. Patients can feel secure with password-protected access and an encrypted connection. Tech-savvy users also will really enjoy the mobile apps available for MyChart. Users will be able to link to their family's accounts. It's very easy to sign up, but there will be support via email or phone for patients who need help getting registered. For information on MyChart, users may call 792-3111 or email mychart@muschealth.com.
How will staff be trained?
Epic implementation team leaders hired about 70 credentialed trainers to teach and train more than 2,500 users. Trainers completed a rigorous five-week program preparing them to teach Epic system modules – and they are awesome teachers. Meanwhile, all MUSC Epic users have mandatory training to complete, and more than that, they need to be thoughtful about how Epic enables best practices in their clinic or office.

Classroom training for pilot clinic users is under way. Other clinical users should sign up as soon as possible for classroom training between April 9 and May 5. Users can register for training using self-enroll in CATTS at http://www.musc.edu/catts.
Where will training take place?
Classroom training is happening at several locations including university hospital, Clinical Sciences Building, Harborview Office Tower, 135 Cannon Street, and Cannon Park Place, Charleston Memorial Hospital and off campus sites including Lowcountry Graduate Center (North Charleston) and Northbridge Executive Park (West Ashley).
How is Epic supported financially?
The Medical University Hospital Authority, MUSC Physicians and the MUSC Office of the CIO contributed to the system fund to provide support, maintain software and manage information flow. The EMR also is supported by meaningful-use funding from government stimulus funds, made available to hospitals and health care organizations committed to upgrading and investing in high-tech systems supporting electronic health record initiatives.
Here to help
Support for Epic and MyChart is available to staff and patients beginning March 22.
Epic support
For general support with Epic – email epic@musc.edu or call 792-EPIC(3742)
For abstracting support – email Dr. Kim Davis davisks@musc.com or Dr. John Kratz kratzj@musc.edu
MyChart Support
Patients can request access codes (beginning March 22) at http://mychart.muschealth.com
For general questions or help, email mychart@muschealth.com or call 792-3111
For information about the Epic Project and training, visit http://epic.musc.edu or call 792-3742.